Showing an unfurnished apartment to a potential tenant may seem like no big deal, but you could potentially be losing out as an empty space not only looks uninviting but it doesn't 'feel' like a home.
Take this one-bedroom property in Battersea Power Station – a new apartment set in one of the most desirable residential locations in London, yet proving difficult to secure a tenant because it was being marketed by the letting agent as unfurnished. You may ask yourself why was the agent doing this if it makes the property less appealing but apparently, the landlord didn't think furnishings were necessary! Here's hoping that by the time you have finished reading this, you'll agree that a rental property needs to be furnished if you want to attract a good tenant quickly.
Despite being a contemporary new-build with an array of luxurious amenities, the apartment's blank canvas was lacking one very important element: homely character. Marketed since completion, it had seen five viewings, however had been unsuccessful in drawing in any prospective tenants. In a bid to spark interest and desirability, the letting agent finally persuaded the landlord to install furnishings and recommended using one of our packages tailored for Battersea Power Station, specifically from our stylish Yellow Gold scheme. Following the installation, the apartment was viewed and an offer was made on the spot, at the full asking price – all within 24 hours.
Converting a space into a warm and welcoming home for potential tenants is indispensable. Furnishing a property helps residents to imagine themselves in their new home; instead of creating a to-do list that typically accompanies a move (i.e. sourcing new furniture, mounting shelves, hanging new curtains), families and potential residents can more easily fall in love with their space, becoming excited about a new home than stressed about the logistics of moving. And not forgetting the thousands of professionals that arrive in the capital looking for an efficient, stylish pad to match their aspirational lifestyle. While this may seem some effort in the beginning, it pays dividends and ensures your property will stand out in a crowded marketplace.
As this particular property in Battersea Power Station came as an empty shell, its interior simply needed transforming in order to make it into a desirable home on the market. The warm, earthy colours and elegant furniture of our Yellow Gold furniture package provides the perfect setting for a homely city apartment. From monochromatic photography to geometric cushions and carpet, thoughtfully chosen interior décor makes it effortless to envision returning home to this comfortable retreat after a hard day's work.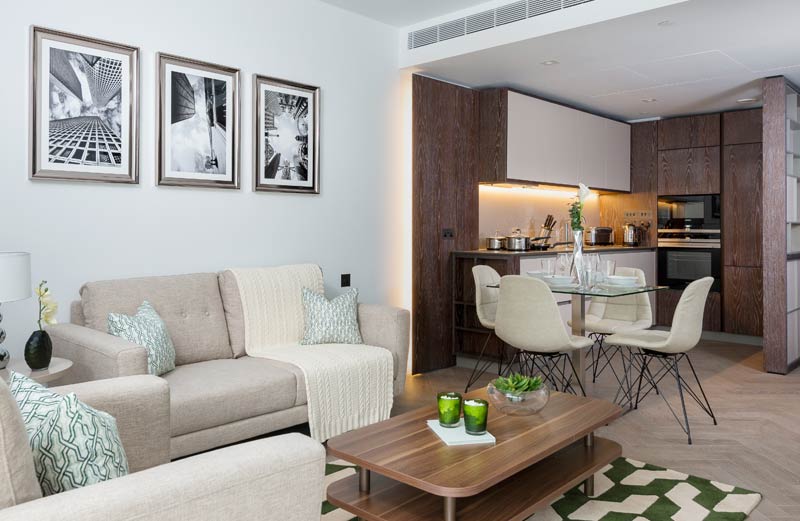 The custom-made Yellow Gold package was designed in keeping with the soothing, natural hue of Pantone's Colour of the Year, 'Greenery'. A punchy green of early spring buds and fresh blades of grass, our designers subtly introduced this gorgeous hue to the apartment's interior scheme through accessories and soft furnishings, handpicked from our chic SS17 collection.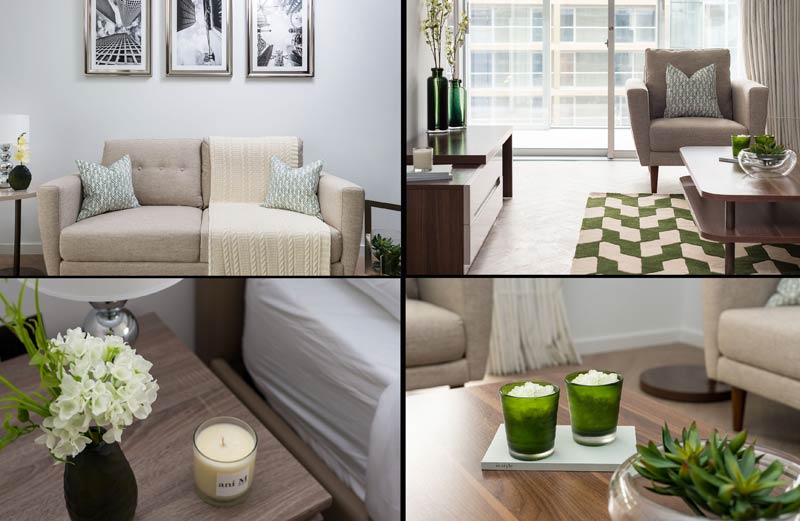 As the apartment overlooks the lush, green spaces of Battersea Park, the incorporation of 'Greenery' fits in beautifully. Paired with wooden coffee tables and cabinets, this combination of fresh, simple accents infuses the apartment's design with the natural elements it is surrounded by.
Not just limited to the living area, the apartment's bedroom also spills with sophisticated hues and elegant décor. With its upholstered headboard, layers of soft furnishing and beautiful blooms, the space's subtle personal touches spell comfort and luxury – a place to relax, recharge and retreat from the world.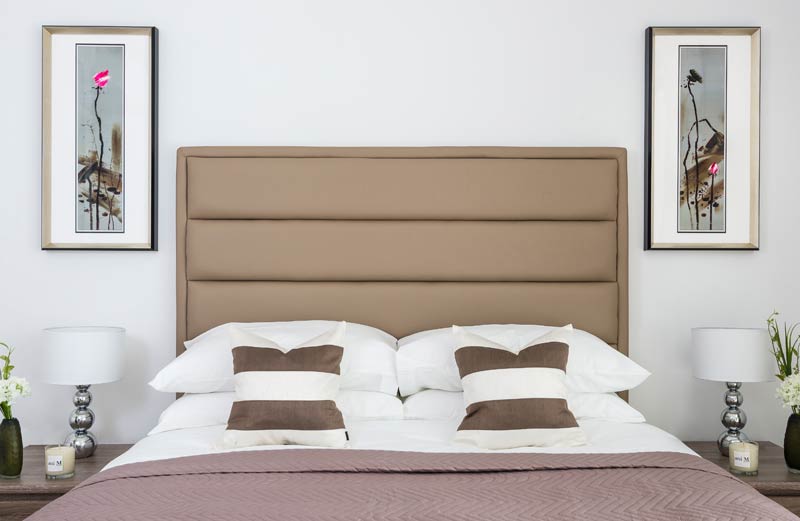 Completely transforming this blank canvas into a striking interior, there is no telling that our design-led furnishings helped in unleashing the property's full potential, paving the way to a quick let with high-caliber tenants (an IT professional and a PHD student) at the full asking rental. By dressing the vacant apartment, our designers were able to also help the tenants understand the use of the space, with every room, corner and window styled seamlessly.
From an investor's point of view, a fully furnished unit in a development that is predominantly unfurnished will no doubt leave a lasting impression. As the competition is high due to the volume of units on the market, presentation is key. Beautifully crafted interiors will boost a property's desirability, making it stand out in the market, attract the right tenants, achieve a quick let and even an appreciated rent. Sarah Edwards at Benham and Reeves agrees, "a well-furnished apartment gives a good first impression. If you provide high-quality furnishing, not only does it tend to be more durable but you will attract the type of tenant who will look after the apartment and take care of it as if it were their own." A win-win situation for both the landlord and the tenant. We find that smaller properties take 30% longer to let and always advise installing a furnishing pack as everything that a tenant needed is provided right down to pillows and spoons. It works out a lot easier for landlords when they take our advice.
With a very high success rate of over 85% of properties let within a few days of being furnished, our packages are designed to be a one-stop furnishing solution for landlords looking to maximise the rental value of their London property. In addition, we also provide soft furnishings and window dressing service, which, when combined with our furniture packages, provide a unique, stylish look.
So, whatever your property type, our in-house furnishing specialists can identify your needs, making for a quicker let or sale, as well as adding that highly desirable personal touch. If you have a property that's about to be completed and you feel these services may benefit you in marketing your property quickly, get in contact with us today.