Worldwide authority on colour, Pantone announces a colour every year that it believes captures the spirit of the moment. This year Pantone chose Greenery, a lush, verdant colour that makes you think of new shoots in spring and sun shining through palm trees in summer.
Mansi Mehra, Design Director is thrilled with the colour choice. "It makes me imagine woodland, dense foliage and ivy-covered branches. Greenery can be used with other shades of green to create this illusion of an enchanted forest or it can be paired with a palette of citrus greens, yellows and greys for an irresistible zing. Greenery is fresh and lively, it offers so many options."
The colour will influence fashion houses, interior designers and product designers who know that by incorporating the Pantone Colour of the Year, they will align themselves with the latest trends and attract more attention from customers. For example, a property that incorporates Greenery in the furnishings is likely to stand out in the marketplace, receive more tenant viewings, attract the right tenant very quickly and bring higher rental returns than one that doesn't have on-trend decor. That's why we are always a step ahead of trends and always incorporate them in our furnishing packages as soon as they hit the market. Greenery has strongly influenced our spring/summer 17 collection.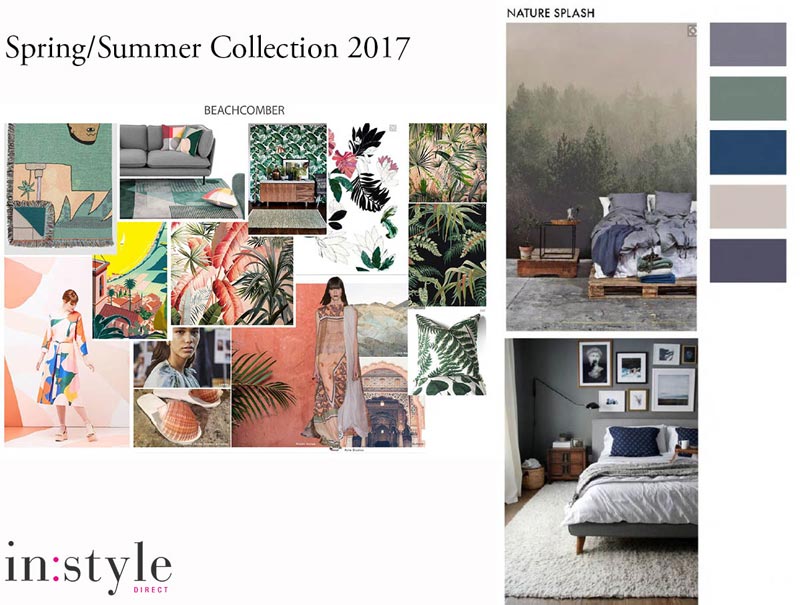 Our design concept, 'Beachcomber' is inspired by the natural vibrancy of the Mediterranean: sundrenched beaches, sea-washed shingle, warm sand and pink sunsets. Lichen and palm-tree greens such as Greenery take centre stage in the foliage jacquards and quirky prints. The concept brings the same feeling of holiday fun and freedom to the living space.
In contrast, our colour palette 'Nature Splash' is the very essence of calm. These are the colours you would see if you took a walk in the mountains; mists, deep green spruce trees and gurgling streams of thawing snow. We've paired these soothing colours with natural fabrics such as soft-washed linens and cottons to create a feeling of comfort and calmness.
We have already started to incorporate these concepts into recent projects with clever touches on the accessories and soft furnishings. Great Minster House is a great example of how our Nature Splash colour palette can be used within home interiors. Soft greys and crisp whites evoke fresh mountain air, dark green splashes on cushions and vases echo the deep green of the fir trees while mirrors, glass accessories and even a glass-topped table are evocative of clear mountain streams. The overall effect is soothing and calm, making it highly desirable to professional tenants who are looking for an urban oasis.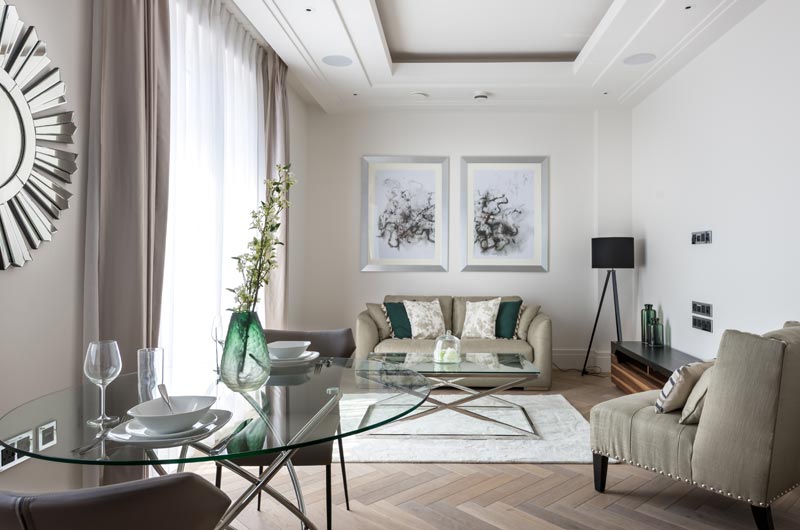 Nature Splash was also used at Chapter Street. Here the darker greys and emerald greens work well to create a sense of majestic plushness and serenity. Because Greenery is such a natural colour, it is easily brought into the scheme with plants and flower accessories, as we have done here. It also helps the bustle of the capital seem very far away, perfect for city professionals looking to unwind.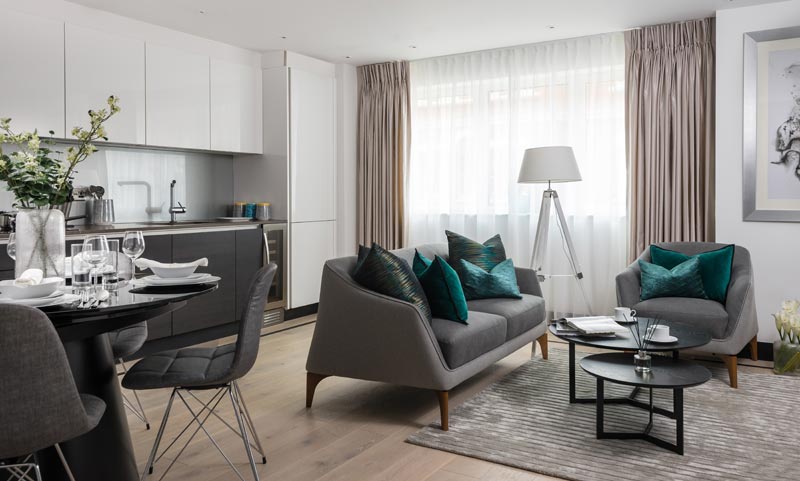 Wild flower displays in glass vases capture the essence of Nature Splash and Pantone's Colour of the Year beautifully, as seen in one of projects completed in Lindfield Street.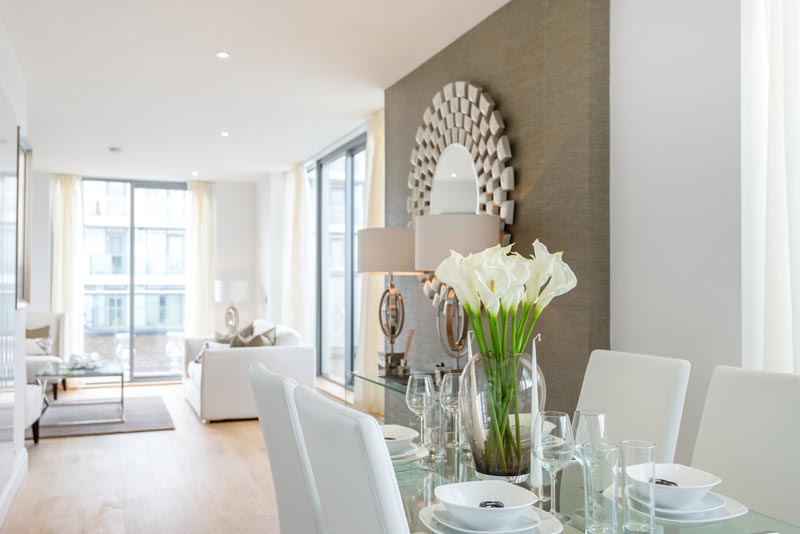 But empty green glass vases can have the same effect as the Dashwood Ealing project shows. Our design team are always a step ahead of the trends in order to create beautiful interiors that are also practical for landlords and investors.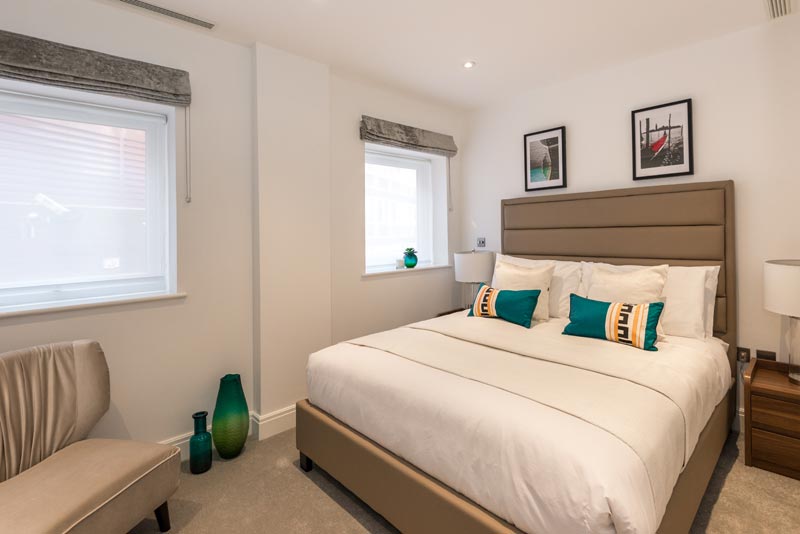 Our work at the Battersea Power Station development showcases how we've incorporated Greenery into our Beachcomber collection. Clever accessories such as green glass, flower displays and plants are complemented by bold geometric prints. The space looks both refined and fun. It just shows how versatile Greenery can be when paired with beige, grey alongside natural wood furnishings.
Such a high-profile development has attracted attention from landlords around the world. To assist landlords with their interior design decision-making, our overseas offices provide a highly personal service which our clients value greatly. Having local teams means landlords and investors can choose their furnishing packages from the comfort of a local office in the time zone and language that they prefer.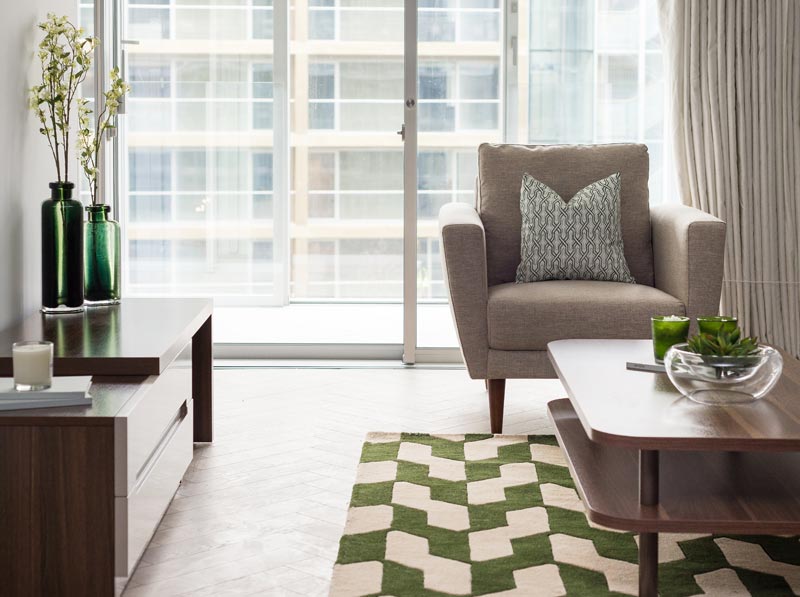 Elsewhere, in the iconic Battersea Power Station development, we have incorporated looser geometric patterns with abstract checks and stripes for a dignified air. When paired with dark grey and deep green however, it creates a more dramatic look. Splashes of Greenery in the plants and accessories keep the decor on-trend and highly desirable to professional tenants.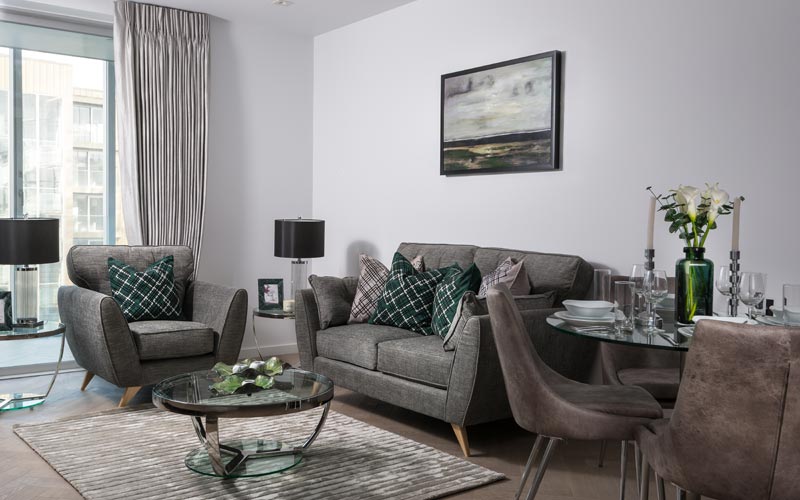 Finally, this project at Westbourne Apartments shows how Mansi's approach to Greenery with "a palette of citrus greens, yellows and greys [will create] an irresistible zing." The decor makes use of Pantone's Greenery but doesn't let it dominate. The scheme is on-trend but, as with all our design-led packages, it is also practical, affordable and durable.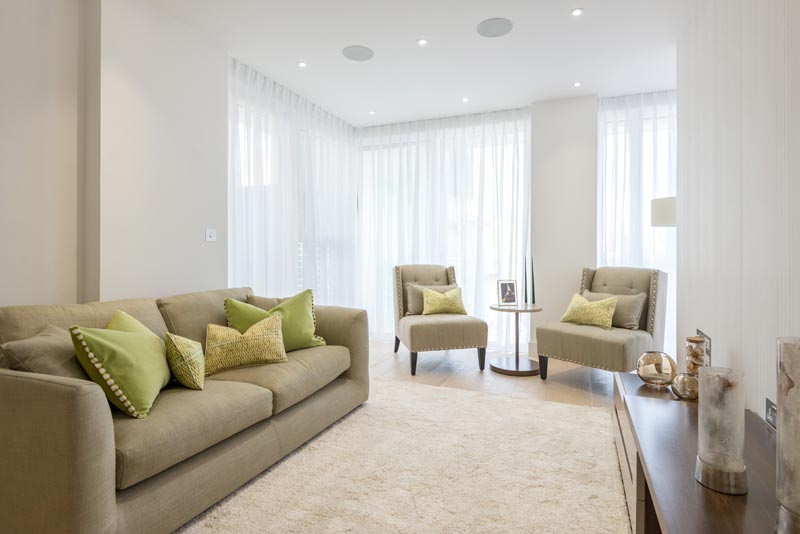 Our design team is constantly abreast of the changing trends and plans these into the furnishing packages in advance. By providing trend-led furnishings, such as those that incorporate Pantone's Colour of the Year: Greenery, we will help your property to stand out and attract the right tenant; resulting in a quick let that brings higher rental returns and minimal void periods. If you would like to discuss how our furnishing service could benefit you, then get in touch today.