To furnish or not to furnish? That's the question every landlord faces when considering how to market their newly- purchased property. The reality is, furnished apartments are in high demand – a staggering 80% of enquiries received by agents are for furnished properties. The combination of convenience and high-spec furnishings means that these apartments repeatedly secure high calibre tenants, who are able to envision their perfect home as soon as they step inside the door.
With this figure in mind, it is no doubt that a fully furnished unit can add value to a property both aesthetically and monetarily. By incorporating furniture and styling elements, a property is transformed from a blank canvas into a contemporary, warm and inviting home ready for rent or sale. With extensive knowledge of the property market and current trends, our professional designers have the experience and know-how to bring out a property's full potential through well-planned designs and a careful selection of all furniture and styling items.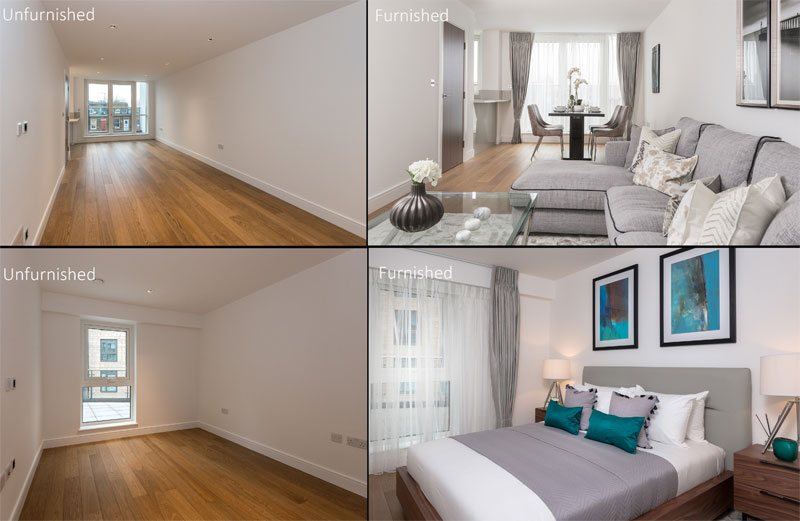 In fact, properties that have been given our stylish furnishing treatment have experienced exceptionally quick turnaround, with 85% of our furnished projects let at first applicant viewing and some on the market for only 24 hours before being let to a professional tenants at the full rental price. Our range of bespoke, design-led furniture packages gives us the ability to have full quality and aesthetic control over our inventory, ensuring a design scheme that makes a house a home. Our sophisticated furnishings at a Knightsbridge apartment allowed the landlord to increase his rent substantially, perfectly illustrating how enhancing an interior can dramatically add value to a property, increase its rental potential and reduce void periods.
One of our most recent furnishing projects involved a complete transformation, creating a stylish living space in a modern apartment at London Dock, a luxurious new development by St George, situated in the heart of Wapping.
For the Manhattan style apartment, we designed a bright, open and airy living area using a neutral colour palette from our versatile Diamond package. With its contemporary furniture, decorative accessories and artwork all hand-picked by our designers, the package's exclusive, high-end quality is ideal for attracting professional tenants and buyers.
Installed within a day's time, cutting-edge furniture, gorgeous accent pieces and floor-to-ceiling window treatments bring an elegant touch to this one bedroom apartment in Wapping, London. A combination of a high-end furnishing scheme and popular location meant this property was let out to a corporate tenant the day after it was furnished at an above market rental because more than one prospective tenant who saw it, wanted it. Once again, well-executed design and sophisticated finishing touches turned an empty property into a desirable home on the market, proving that furniture package solutions are highly effective in adding value to a newly completed property.
From the gorgeous pastel shades of our Champagne Diamond package to the elegant fabrics of our Chocolate Diamond package, our exclusive range of home décor is guaranteed to give your property a unique look that will stay at the forefront of prospective tenants' minds. A space that is beautifully decorated and furnished says 'home', and once our design team added a harmonised colour palette, well thought-through décor and quality furnishings, the result is an excellent rental yield and minimal void period.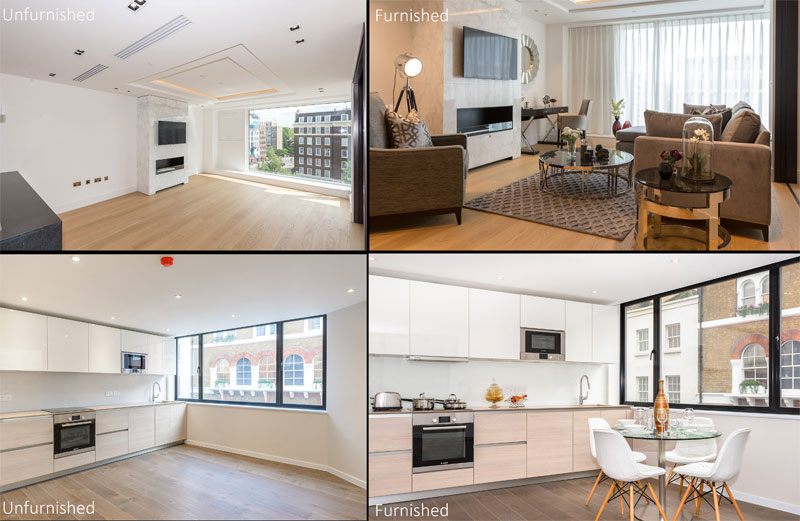 With a wide range of property solutions provided under one roof, including full refurbishment and tailored interior design services, our team of experienced in-house designers and project managers translate concepts into inspirational and intelligent interiors, reflecting a client's passions, personality and lifestyle. Moreover, our experts work swiftly and efficiently to ensure the delivery and installation of our furnishing packages are completed within 48 hours. An additional benefit is that as we have a global presence with operations in Hong Kong, Malaysia and Singapore, our overseas clients benefit from local time zones and the convenience of having a property expert at their disposal.
If you own a property in a smart residential development and are hoping to attract a corporate tenant, presentation is just as important as location and amenities. A stylish and contemporary interior will help add value to your property's aesthetics and realise its full potential value.
Want your London property to stand out in a highly competitive marketplace? Explore how our furnishing specialists can bring similar success to your property portfolio with our design-led packages.