A great riverside apartment, had been on the market for a number of weeks with unsatisfactory tenant interest until Marc von Grundherr of Benham & Reeves suggested a different approach to the landlord and tasked us with the furnishing and window dressing of the apartment to boost tenant interest.
The three-bedroom, three-bathroom needed to be sympathetically furnished to accentuate its unique layout. Our team designed a furniture package specifically for the Fulham Riverside development, having worked with other landlords in the property. It was a tailored mix of the Gold and Diamond furniture collections. This package worked well and just needed our design skill to work with the apartment's individual space.
The bedrooms' generous sizes would be a selling point that we were keen to emphasise with a neutral colour scheme of taupe and grey accessorised with glass and metallic finishes. We made great use of the new selection of exclusive beds bringing touches of colour through the soft furnishings and luxury hotel-style oversized lamps.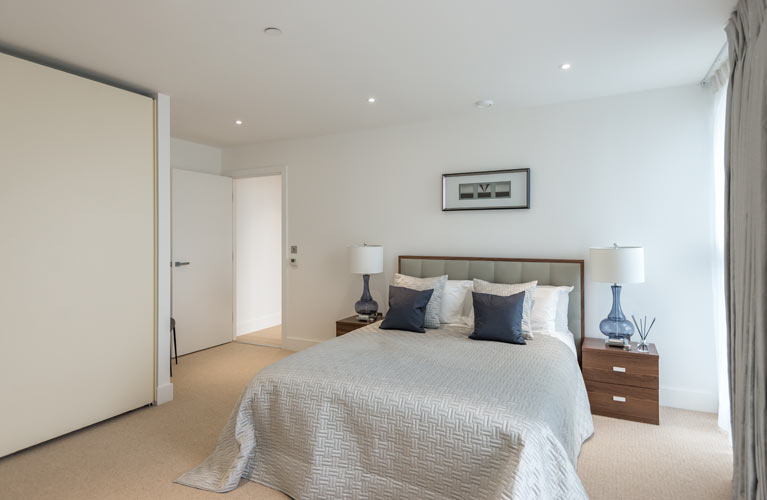 The reception area however, was a challenging space to furnish and make comfortable for at least six people (given the number of bedrooms). L-shaped sofas were chosen to help maximise the space and provide a flexible seating arrangement. The smart neutral colour palate was carried throughout to increase the sense of space and light.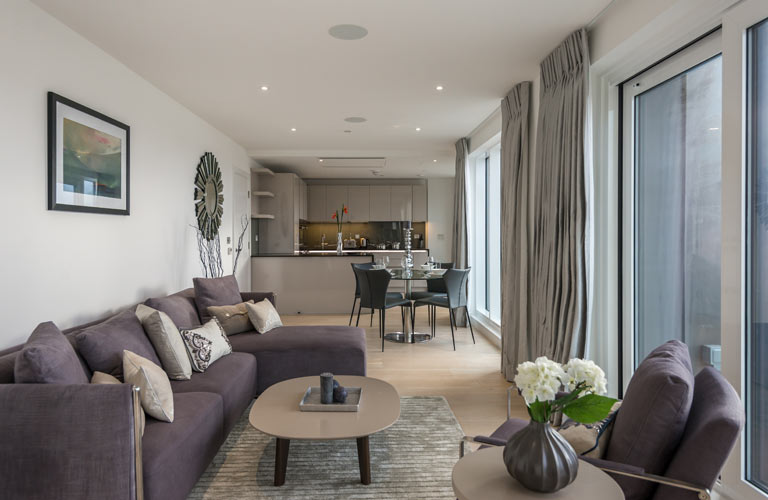 The property had more than 18 full-length windows that would need to be dressed. We considered the options and decided the best solution was to install sheer coverings with a second layer of  blackout lined curtains in the three bedrooms to ensure privacy and a good night's sleep.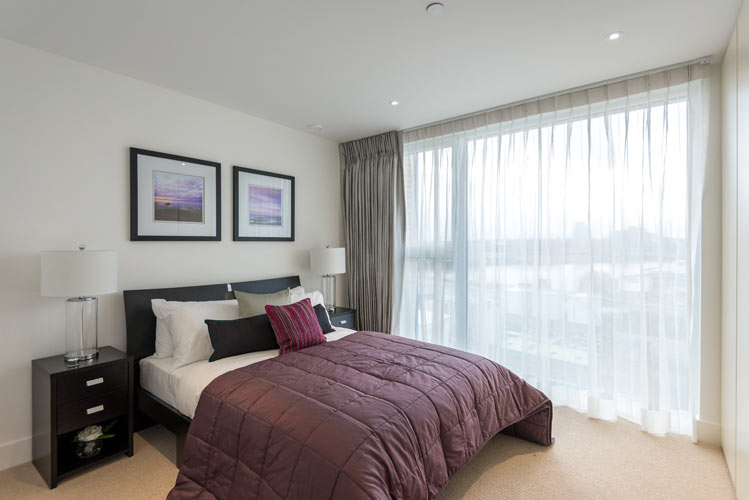 Elsewhere in the apartment, a single layer of lined curtains would give the windows the necessary  wow factor. This was particularly important in the reception room as we didn't want to restrict the spectacular view of the Thames.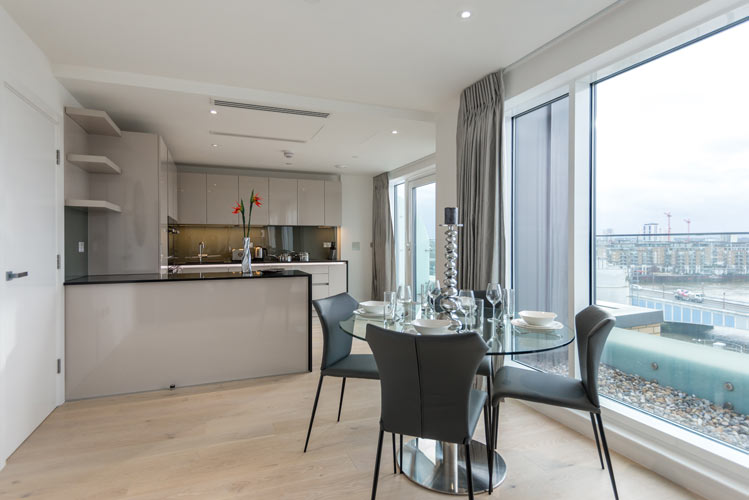 The furnishing and dressing ran smoothly and took just two weeks. Any letting agent will advise that time and effort spent on presentation is time well spent to ensure a quick let. This property was no exception, not only was it let within a week to a professional, high-end tenant but it was also let for more than it had originally been on the market for. The landlord was delighted, not least because being based overseas meant they had to rely on our team of trusted professionals to make the best decisions about the property.
If you would like to find out how we can help maximise your property's potential then get in touch today.