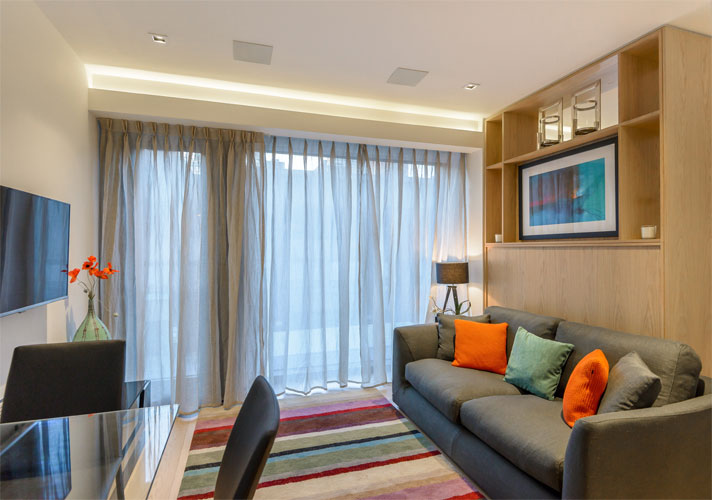 The priority for any landlord is to find a good tenant for their rental property – and quickly. But even a brand new apartment can take a while to let if tenants can't visualise how they might live there. A plain, neutral living space can seem overwhelming – and dull.
Furnishing a rental property helps it let quickly
The solution is simple. If you want to let your rental apartment quickly, you have to think about furnishings.
One of our most recent furnishing projects involved creating a stylish living space in a brand new apartment at Roman House, a luxurious development in Wood Street, London EC2. We designed a stunning living space and by using some lovely bright, modern colours, one that is fun to live in too. The apartment was let to a city professional within only 24 hours of coming onto the market and for a higher rent than similar flats in the area. So a happy landlord and a happy tenant.
And now the interior design detail
This City rental apartment is very much a 'crash pad' for a successful professional. The building is in the heart of the City of London, with a private gym and a 24 hour concierge – all the trappings of a glamorous, urban lifestyle. So the property's interior has to be up to the mark.
Creating an appealing interior
We got to work on the apartment straight away, aware that the owner of the property wanted it let and bringing in a rental income as quickly as possible.
Colour choices
First the practical issues. The apartment is a studio so making the most of the available space was a priority. The key to this is to use muted, subtle colours as a base to make the space feel light and bright. For a co-ordinated look in the open plan living, dining and kitchen area, which also helps to make the space feel larger, we chose furnishings that mirror and complement the colour and finish of the kitchen cabinets – a simple, sleek and 'joined up' look.
And now for some fun. To create this sophisticated yet contemporary space, we chose accessories in vibrant orange and cool light blue, bright and colourful without being too overpowering and just enough to give a lift to an otherwise subtle and pared back colour scheme. We chose one or two beautiful mirrors and a glass dining table to add to the feeling of light and space.
In the bedroom, we opted for soothing tones to create a luxurious but peaceful sleeping space. The colours complement and balance the main living area, tying in soft pale blues and creams with the blues in the living area.The bed has a stylish, upholstered headboard, adding to the chic, boutique hotel feel. It has four drawers in the base so is a great storage option too.
The apartment looks stunning but, perhaps even more importantly, our client is thrilled with it. He comments: "Furnishing my property to such a high standard has really set it apart from other flats in the same building. I would definitely suggest other landlords consider going down this route to ensure they find a tenant quickly – it really has made all the difference."
And Alan Knightly of Hamptons International who let the property for our client had this to say: "The Roman House apartment let within 24 hours of coming to the market and at a very solid rent so this was a great result. The furnishings and dressing of the property definitely played a large part in this."
It's no coincidence that * 91% of our furnished properties are let at first applicant viewing. Our value-for-money, time-saving furnishing packages also enable estate agents and developers to offer an ancillary service to effectively market their properties swiftly to achieve optimum value. It is only with an impressive interior complete with contemporary, comfortable and durable furnishings, that a rental property will stand out in a highly competitive marketplace.
*figure based on data provided by Agents 28-30th Nov 2016