The studio apartment at Catalina House had been proving a tricky let for its owners. Marketed since completion, it had seen seven viewings, however there had been little to no interest from prospective tenants.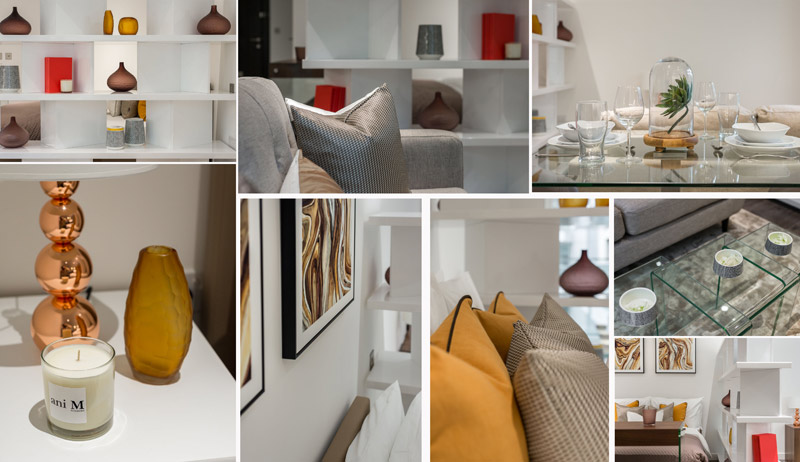 Being a studio it needed to be decorated and furnished to show off the space to its best advantage but in its unfurnished state, all that potential tenants could see was a one bedroom apartment with no character. That's where we came in. Our furnishing packages and eye for design helped maximise the property's potential, making the apartment appear more spacious and giving it a light and brighter feel. On the eighth viewing, after we had finished our work on the property, the owner was able to secure a professional tenant who made an offer on the spot.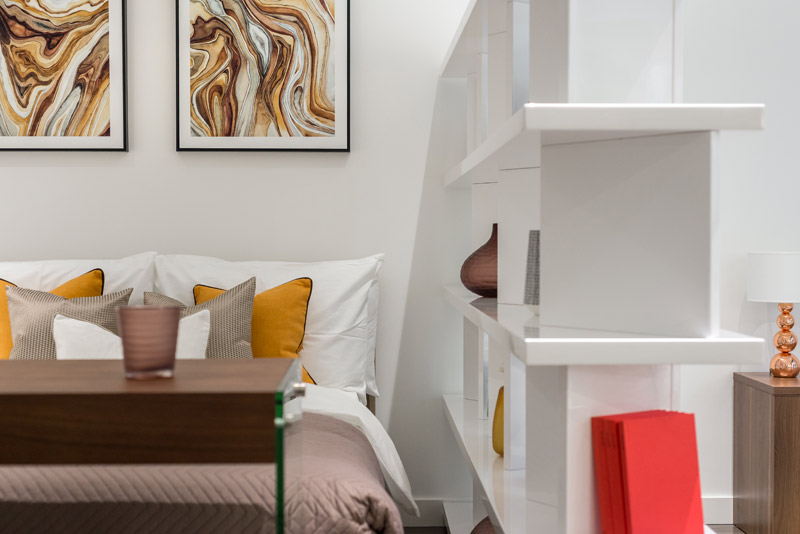 Here's how we did it. We kept the colour scheme neutral, using beige and taupe furnishings to create the sense of a larger space, helping to really open it up. The owner was a previous client so we had a good insight into what their personal preferences were before we even started the project. The living space allowed us to use a bookshelf and console table to divide the room and make clearly defined living and sleeping areas. Again, it is important to show how the space can work, day to day, so the tenants don't have to work hard to imagine themselves living there.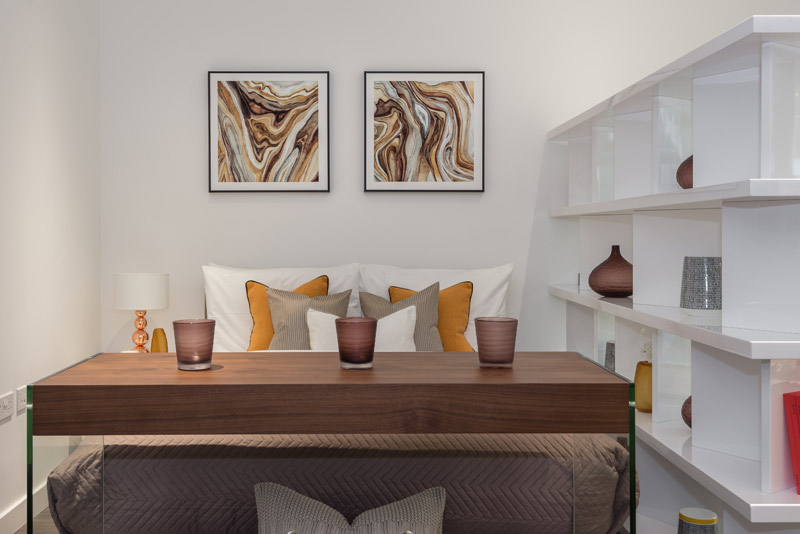 For the reception area, we chose a standard two-seat sofa, a TV unit (to provide extra storage) and rather than a coffee table, we chose a nest of tables as these are more versatile and easier to 'tuck away' when not in use. We kept in mind the tenant's needs, so the console table and bookshelf 'room dividers' also acted as areas in which to display personal mementos and belongings.

Accent colours of amber and purple, used on the soft furnishings, add warmth and comfort; while the choice of red books really gives the living area an immediate boost without overwhelming the space. The whole apartment was transformed in less than 24 hours. It looked bigger, brighter and had bags of character. Tenants no longer had to stretch their imaginations to see the potential of the apartment. After just one viewing, a let was agreed with a professional tenant, who is an investment banker, at the full rental price.
That's why we always advise landlords to furnish their rental property. Agents often tell us that tenants prefer furnished apartments and that 80% of enquiries they receive are for furnished properties. Moreover, if they are furnished to a high standard, then the tenants they attract are more likely to take care of the property. This project at Catalina House just goes to show that from just one day's input by our team, we were able to quickly help the client realise the full potential of their investment.
Though after the furnishing, they may have had second thoughts letting it out:
''Thank you. The apartment looks gorgeous now, makes me want to keep it for my own use! The personal touch of Anita and the creativity of the designer,
Wai Yin Lee
help to create a nice and classy ambience. My deepest appreciation to them and the entire team at InStyle Direct for this wonderful end result.'' Mr. J Loh
If you would like to see what our furniture packages and home staging service could do for your property, then get in touch today.