With property values soaring in some parts of London and a greater number of people choosing the freedom of renting a property, Chancellor Philip Hammond's Autumn Statement brought a boost to the London property market. His proposed ban on letting agency fees by 2018 means that 4.3 million people who rent and pay an average upfront fee of £337 will be better off. He has also ring-fenced £2.3bn for a new Housing Infrastructure Fund to support the building of 100,000 new homes in high-demand areas and set aside £1.7bn for the construction of new properties on public land. The government is taking a proactive stance on the housing market and continuing to make the UK an attractive place to invest.
As more new builds become available across London in 2017, the race to secure tenants will speed up. The majority of new builds will be offered furnished because according to a leading letting agent in London, unfurnished properties take up to 30% longer to let. So, the question I have to consider as Business Development Manager is: what makes a rental property stand out when lots of properties are all completing at the same time, often in the same buildings?
The answer is quality, on-trend furnishing packages that show the property at its best to prospective tenants. It's something we've honed to a fine art. Our interior design team have already planned the furnishing packages for 2017 and 2018 based on upcoming trends. Here's a sneak peek at our spring/summer 2017 collection.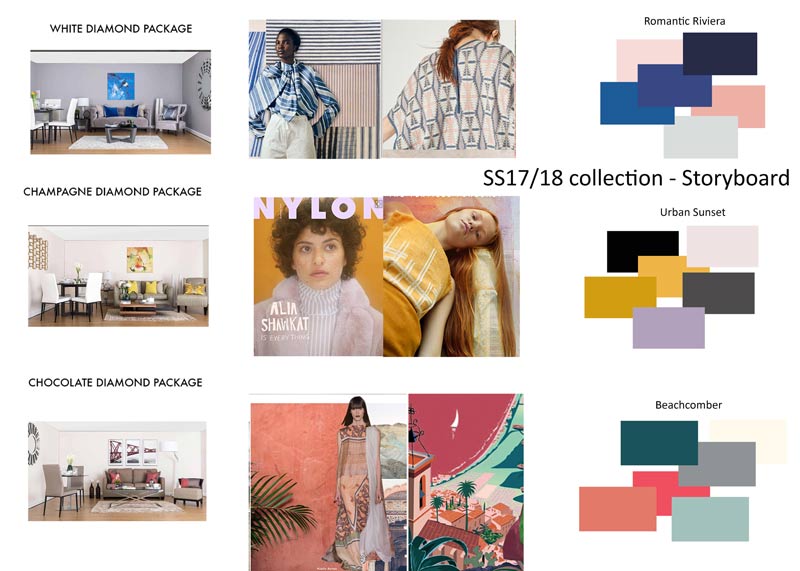 Photograph : Storyboard for SS17/18
Romantic Riviera graces the White Diamond package with cool blue hues and sharp geometric prints, something we predicted in 2016 and can be widely spotted in our SS2016/17 collection of soft furnishings.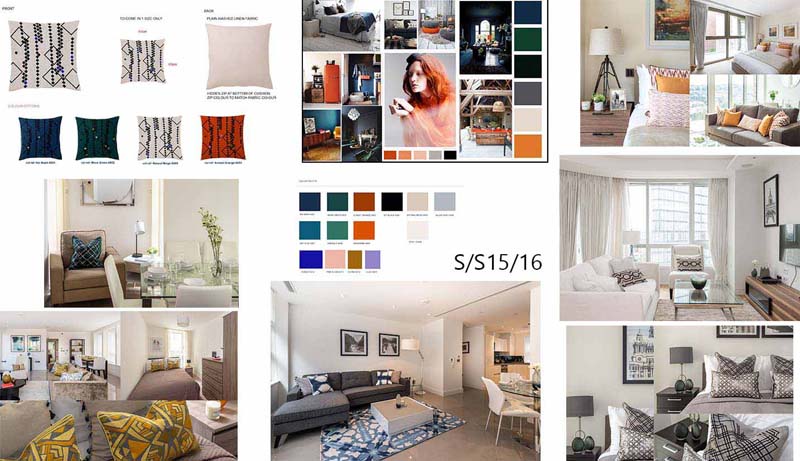 Photograph : Storyboard for SS15/16
Urban Sunset teams chic mustard with city greys in blocks of colour in the Champagne Diamond package. Beachcomber celebrates the earthy colours of warm sand, sea landscapes and natural prints to the Chocolate Diamond package. Each look is sophisticated and subtle. We've used quality fabrics (natural cotton and linen) and our own custom designs.
"We are always updating our 'look' based on interior trends and fashion forecasts" says Mansi Mehra, Director at InStyle Direct. The new collection is playful yet subdued, it adds flavour without overpowering the pallette and, as ever, the collection reflects high quality design at an affordable price."
We are continuously working to stay ahead of the latest designs, fabrics, colours and patterns to ensure our packages reflect lifestyle trends that professional tenants are looking for. Our clients' properties get a look that tenants can't resist, helping landlords and investors to achieve quicker lets, often at an increased rental.
If you would like to discuss the spring/summer 2017 furnishing packages then contact me
James McNeill on +44 (0)79 8038 3172 or get in touch with our friendly staff and we will be delighted to help.