It is no doubt that a home that has been furnished according to the taste and preferences of a discerning London tenant is most likely to lead to a swift and successful tenancy agreement with good rental yields. From structural alterations to bespoke window treatments, our design team continue to advise buy to let landlords on the best ways to ensure their properties stand out in London's rental market.
A recent furnishing project saw our team beautifully transform a rental property in Hammersmith, at a new collection of apartments located in London's most prestigious riverside locations, Fulham Reach. Owned by a well-known celebrity vlogger, the one bedroom apartment was purchased as a first-time investment property. Featuring a private balcony and a sophisticated floor plan, the landlord was looking to attract a professional tenant on a long-term rental.
Having been initially put on the property market on an unfurnished basis, the letting agent had struggled to get any prospective tenants excited about the apartment. The new landlord was soon advised to furnish the property, to which our design team stepped in. The landlord had been told that adding quality furnishings would really help so with our creative hats on and our attention to detail, our designers worked efficiently to style the property's space from a blank canvas into a stunning apartment within one day.
After furnishing the property with our contemporary designs from our stylish Diamond pack and our own made-to-measure window dressings, the Faulkner House apartment began to attract a large number of keen renters, all willing to pay more than the asking price to secure their ideal home. The property therefore managed to secure £550 per week, significantly higher than the average rent in the Hammersmith area. With a higher rental achieved and a professional tenant secured in just a few weeks, the property's success was most definitely attributed to its presentation and aesthetic appeal.
Brimming with high-quality, unique and on-trend household furnishings, our Diamond pack is hand-picked by our designers to create exclusive and stunning schemes in high-end properties. As items are designed in-house, buy to let landlords can always expect the finest in quality and style. Since the homeowner was a first-time investor, our team took the reins and, with professional knowledge and expertise, guided him through the entire furnishing process from start to finish. We coordinated the furniture installation in his flat all whilst he was overseas, ensuring seamless communication through emails and calls. The letting agent was also delighted that the property let so fast after furnishings were completed.
With a warm colour palette and a unique blend of contemporary furniture and bold home accents, the living room was transformed into a simple, elegant space. A grand sofa, delicate coffee table with cross-strut detailing and light grey rug lend the room an inviting ambiance. Neutral colours act as the perfect canvas for more bright, playful hues, like royal blue accent cushions and an eye-catching patterned art piece on the wall. Bringing the interior scheme together, a window treatment of floor-to-ceiling metallic drapes add a stylish flair.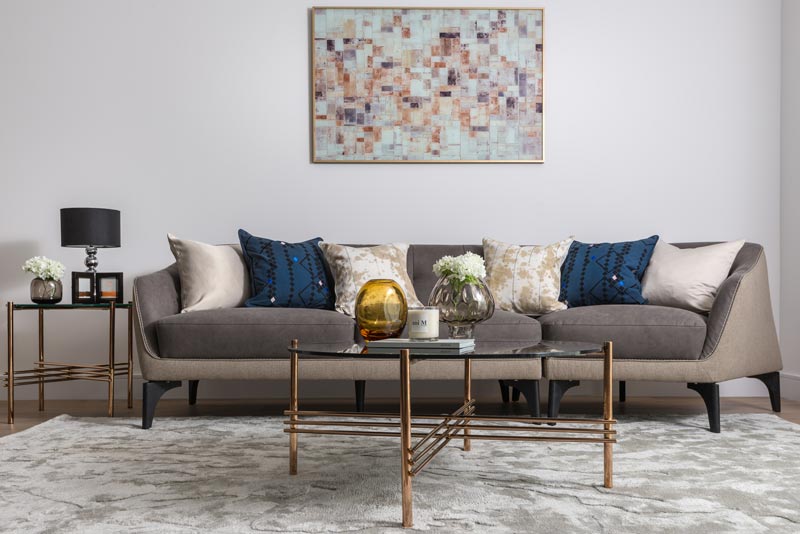 Since the dining table is the heart of the home, our design team created a beautiful setting with a round, dark oak table, beige dining chairs and bright pops of sunshine yellow. Complete with elegant silverware and a stunning floral centrepiece, the immaculately set table invited prospective tenants to envision a future of dinner parties and memorable gatherings.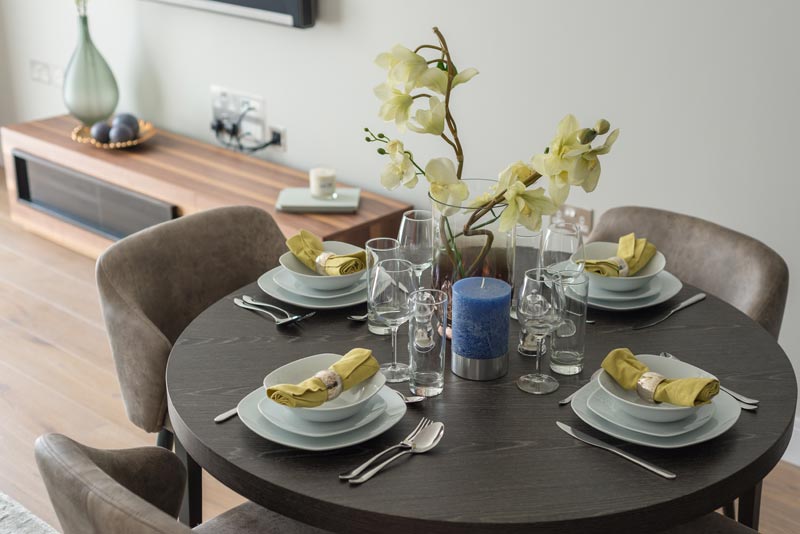 This modern living room combines the palest of greys on a feature wall, complete with a beautiful bevelled glass mirror and balanced décor for a visually pleasing space. In the sleek, open-plan kitchen, bespoke bar stools provide a sense of authenticity and comfort to the kitchen counter experience. It is the Diamond pack's sophisticated designs and understated luxury that helped attract a number of high-calibre tenants to the property, securing one effectively.

In the master bedroom, subtle earth tones of copper, taupe and brown create a calm, comfortable space that is warm and inviting. A light wood bed frame and cabinet emit elements of minimalist, mid-century modern design, gorgeously contrasted against vibrant, contemporary accents. Velvet pillows and marbled artwork add a quirky edge, whilst floral arrangements lend the room a natural beauty. With care and thought put into every corner, our design team's choice of furnishings, motifs and colours inspire a relaxing, sleep-inducing haven.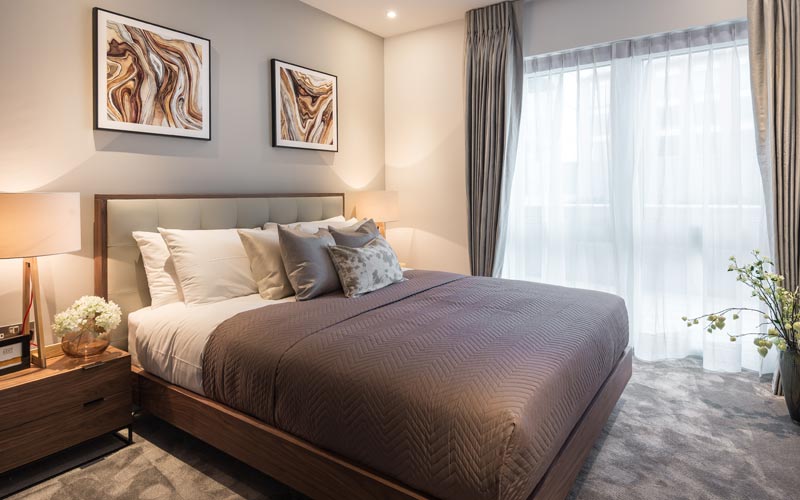 With a creative and technical expertise, our design team were able to completely transform an empty canvas into a fully furnished unit, overflowing with charm and character. Unparalleled organisational skills and an ability to cater to multi-disciplinary areas of furnishing meant our team were able to complete the furnishing of the apartment in only a day's time, all in a smooth and efficient manner. The end result? A secured tenancy for a year to a registered nurse and a successful first-time investor.
Are you looking to dress your London property for rent or sale? If so, get in touch with our furnishing specialists to help make your buy to let property irresistible to house-hunting tenants, with our array of design-led furniture packages.