Nestled on the south side of the river and less than four miles from the capital's center, Battersea is fast becoming one of London's trending areas and property investment hotspots. Without a tube station, the SW11 neighbourhood has often slipped under the radar of many rental investors, although that's soon about to change – with the redevelopment of its iconic power station and the opening of two Northern Line stations in 2020, Battersea's urban regeneration is creating a huge buzz in the property market.
The Area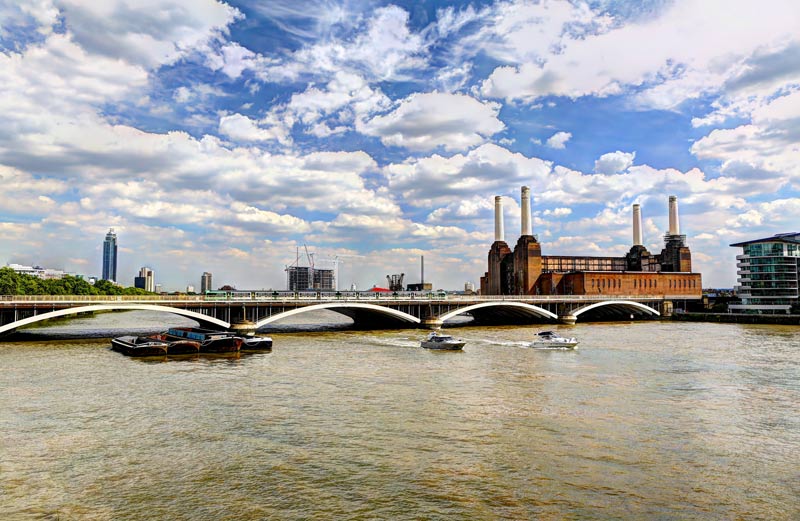 One of the largest regeneration projects in Europe, the Nine Elms area has generated more attention than any other London development since a Malaysian consortium bought the 42-acre site in 2012. With the rejuvenation of Battersea Power Station, the US Embassy moving south of the river and the planned Northern Line extension, the South West London postcode has an undeniably bright future.
The London Underground station serving Battersea Power Station will be incorporated into Prospect Place, a cluster of five striking and spectacular apartment blocks designed by renowned architect Frank Gehry. Resident amenities are reflective of the location's luxury apartments – an exclusive lounge, yoga studio, gym, rooftop access and beautiful garden, to name a few. Additionally, with its "embassy quarter" and brand new office buildings (including Apple's brand-new HQ) attracting talented professionals from all corners of the city, Battersea is set to become a leisure and cultural destination in its own right, with an array of waterfront bars, cafés and galleries on its doorstep.
Walk on from this bustling industrial landmark and you will find Battersea Park's 200-acre oasis, undisturbed and serene. South Battersea — surrounded by the lush expanses of Wandsworth and Clapham commons — is also one of the area's gems, with independent shops and bustling brunch spots peppered all along the charming Northcote Road. All in all, Battersea's pockets of communities are second to none.
Featured Projects
With a range of seamlessly-executed, highly-successful furnishing projects under our belt, we have played a role in Battersea's world class urban redevelopment, using our specially tailored furniture packages to huge client satisfaction.
With its understated palette and timeless yet contemporary interior, our exemplary Gold furnishing package sets the scene at this one-bedroom property in Battersea Power Station, let by Benham and Reeves, to an IT professional within just 24 hours of being furnished, proving furnishing packages add value for both landlords and tenants alike.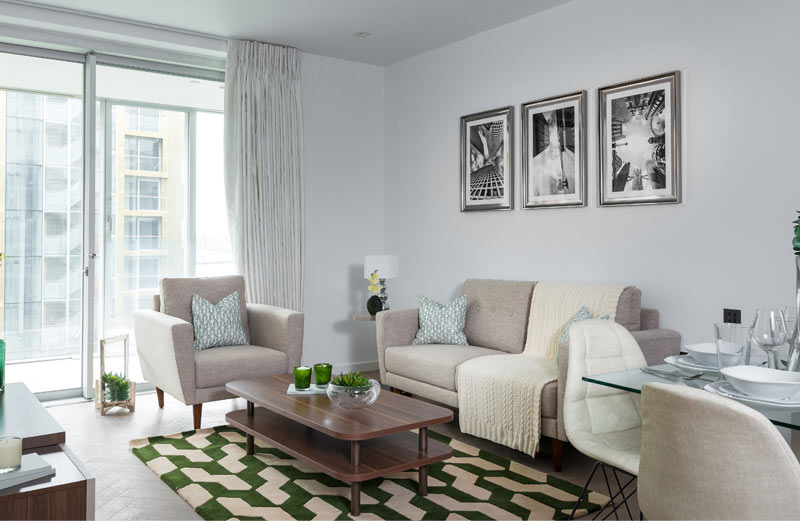 It's a win-win and a strategy Lettings Director at Benham and Reeves, Marc von Grundherr, highly recommends: "I always tell my clients, especially those based overseas, to invest in furniture packages when looking to rent a property. The rentals we achieved for furnished properties are definitely on the higher side, which is especially key to note as currently there are many units being released at the same time, therefore competition for secured tenancies is high. By landlords spending a little bit more on the finer details, they should be able to accrue higher rents and also achieve shorter void periods, meaning the decision to invest in furnishings will pay dividends."
Sophisticated design meets understated elegance at this one-bedroom apartment, also in Battersea Power Station. Fully furnished with our Diamond package, each corner spills with truly exclusive designs and luxurious décor statements, of which helped to attract a high-caliber professional tenant in the financial sector within 48 hours at an appreciated rent.

A blend of our Gold and Diamond furniture package makes for a completely unique, visually stunning and luxurious interior at this two-bedroom apartment in Battersea Power Station's Bessborough House. After undergoing a complete transformation by our furnishing specialists, the property was swiftly let out to postgraduate students at the full asking price – the tenants even paying an entire year of rent upfront to secure their ideal home in the Nine Elms area.

Set within the brand-new development Battersea Exchange, this beautiful three-bedroom apartment boasts bespoke design and high specification finishes from our Diamond package. Sleek, contemporary furniture reflects the development's modern, new-build architecture, and makes for ultra-stylish living with the ultimate city address to match.

Last but not least, an upgraded Diamond tailor-made package was used at this luxury two-bedroom apartment situated in Battersea's Vista Development. Finished to an impeccable standard with modern design throughout, bespoke furnishings ensured the owner received an exquisite holiday home from home, and the perfect summer escape.

Already seeing the rise of a new and vibrant cultural district on London's South Bank, the Nine Elms regeneration area is the most ambitious, transformative project London has seen in decades. Its swathe of premium properties demands a superior finish, and our range of design-led furniture packages offer just that. With quality at the heart of each scheme, beautifully crafted furnishings lend an air of distinction in each room, and truly capture the area's high-end style and ambiance.
It's clear that prospective tenants are attracted by the high-quality furnishings and clever design schemes which helped these properties make the right first impression. After all, each of the units are the same size and shape, the only difference is the way the apartments were dressed and furnished.
From a landlord's point of view, there's additional benefits also; a fully-furnished property will stand out when applicants start their online searches amid the hundreds being advertised on the same property portal. We were recently instructed to furnish a landlord's own family home in the area. Purchasing the Gold range, the client commented :
"I was highly impressed with the quality of the furnishings provided, along with the seamless installation, aftercare service and the professionalism and expertise of the team which helped me make the right decision for my property. In fact, after seeing the furnishings in place in my home, I decided to use another In:Style Direct furnishing package at my buy-to-let property in Battersea. Both times, the team delivered a fusion of creative thinking, thoughtful detailing and flawless assembling. I won't hesitate to use In:Style Direct for future projects, as I have been delighted with the experience so far" – Reem Alzamil
The rise of this coveted central zone is certainly promising for landlords and buy-to-let property investors alike, with its regeneration likely to have a knock-on effect on other emerging areas in London, such as Wandsworth Town. The extent of the regeneration and residential and commercial projects across the Nine Elms and Battersea area, including the Northern Line extension and the arrival of the new Apple HQ, should breathe a great deal of life back into the historic site.
Have a property in the area that you're looking to furnish? Our team will be happy to assist and share more in detail about the Nine Elms area. Get in contact with us today.