Ask any landlord what makes an ideal tenant and they will mention three things: professional tenants with excellent references and good credit ratings, those who wish to sign a long-term tenancy agreement and, last but not least, those who treat a rental home with care and respect, as if it were their own. So, from a property investor's perspective, what are the best ways to attract these kinds of tenants?
Although aspects like location, rental amount and desirable features are important to consider, attracting the right tenant for you and your property ultimately boils down to one very crucial factor: your property having an individual style. Without a sense of character, your property risks being overlooked and experiencing a long, unremitting void period – a serious concern as a landlord. When achieving the feel of a stylish, characterful home in your rental property, the perfect solution lies in the design details; from striking sofas to statement dining tables, elegant fabrics to eye-catching artwork. Home interior has the power to transform an empty space and secure high-calibre tenants in a very short space of time, just as a recent furnishing project at a property in Battersea Power Station proves.
Set in one of the capital's most sought-after residential areas, this one-bedroom apartment was originally marketed by the agent as unfurnished, and had struggled to attract any potential tenants. With only three viewings to date, the landlord agreed to purchase our Diamond furniture package for the property. After the space was installed with our hand-picked range of high quality furniture, soft furnishings, accessories and artwork, one of the previous applicants (a professional practicing in the financial sector) re-visited the property and an offer was made right away, at the full asking price – an incredible turnaround in just 48 hours.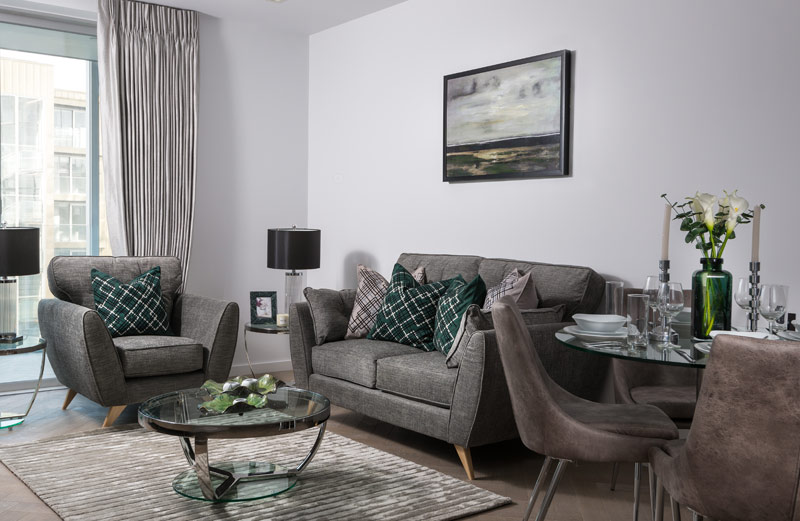 Specifically opting for our White Diamond range, our design team ensured each area of the apartment was carefully styled to create a beautiful, seamless space. In the living room, neutral-hued furniture lends way to bold pops of colour – cushions and decorative accents nod to Pantone's zesty Colour of the Year, Greenery, and add a gorgeous depth and dimension to the space.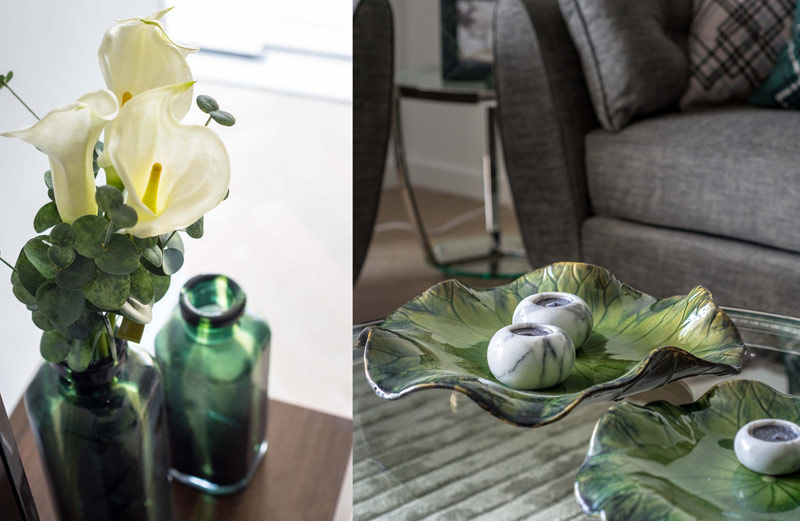 In the bedroom, striking décor draws the eye as soon as you step in. Sand-hued fabrics, tripod table lamps and tropical prints add a refined British Colonial style, and fills the space with character and charm. It is with the help of our design-led furnishings that the property's true potential was unleashed, allowing the prospective tenant to visualise themselves relaxing on the sofas, sinking into the bed and everything inbetween.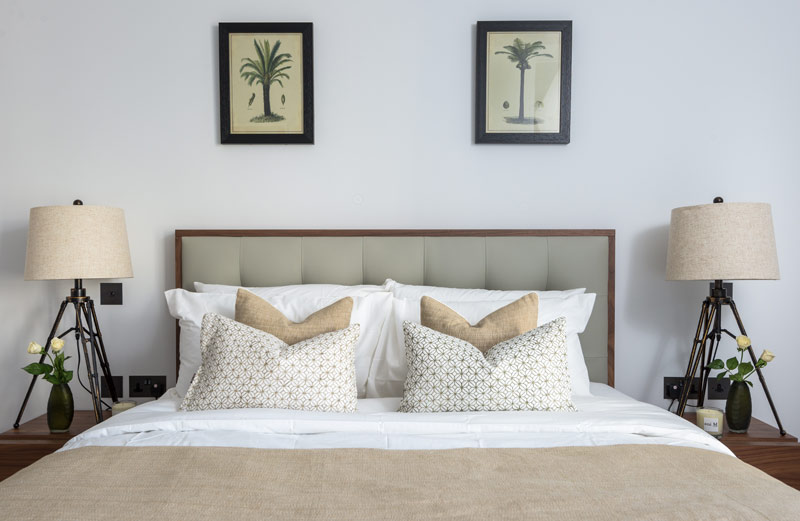 A premium location such as Battersea Power Station commands a stunning furnishing scheme, and our Diamond package fits the bill. With its combination of beautifully crafted, trend-led furniture, soft furnishings and home accessories (all specially hand-picked by our designers), the end result is always a highly-customised, distinctive interior. Boasting three stylish colour schemes, the pack is also inclusive of a two-year warranty, which, in the unlikely event of furniture being damaged, ensures all eventualities are covered.
One of many units in a new development, the property's distinct look from our Diamond furnishing package no doubt made it stand out in the market. Di Gong a letting agent at a leading letting agency in London agrees that furniture is key to a brand new apartment – "On average, we see 60% of homes coming onto the London property market as furnished and there's a reason for this. With a large number of units that are very similar, furniture is the best way to make your property stand out and attract the best tenants. As the tenant will have a number of options to choose from, usually their decision will come down to the property that left the best impression. It is therefore the furniture and finishing touches that count." Something Di has also noted is the effect that these finishing touches can have. He finds that tenants appreciate these details, take better care of the property and stay for longer, helping to reduce void periods.
Taking an empty apartment and transforming it into a bespoke space is what we do best. Due to open next year, our new showroom in Nine Elms will provide a truly personalised service to our clients. If you are considering investing in the Nine Elms area, or have a property coming onto the market shortly, our team would be more than happy to advise on how to achieve the best rental yield. Simply get in contact with us today.