London is nearly as famous for its urban regeneration projects as it is for its historical landmarks. Now it's the neglected area surrounding Battersea Power Station's time to shine. Synonymous with the former glory of heavy industry, the area in recent years has had more press about its poorly designed road system and failed revamp attempts than anything else. Wandsworth has suffered by comparison to its richer, more desirable neighbours over the river however, now it is Chelsea and Pimlico's turn to look with envy across at Wandsworth's £15bn transformation.
Here's nine reasons why for retail, commercial and residential property investors, Nine Elms is the area to fall in love with.
1. Iconic location – Battersea Power Stations is an iconic feature of London's skyline
Battersea Power Station is the focal point of the urban regeneration project, Nine Elms. The unique four-chimney coal-fired power station has cultural significance beyond supplying most of London with power in the '50s – it also features on album covers and in films and is a distinctive part of the London skyline. This makes it significantly desirable for tenants, 69% of whom say that location is their top priority when looking for somewhere to rent.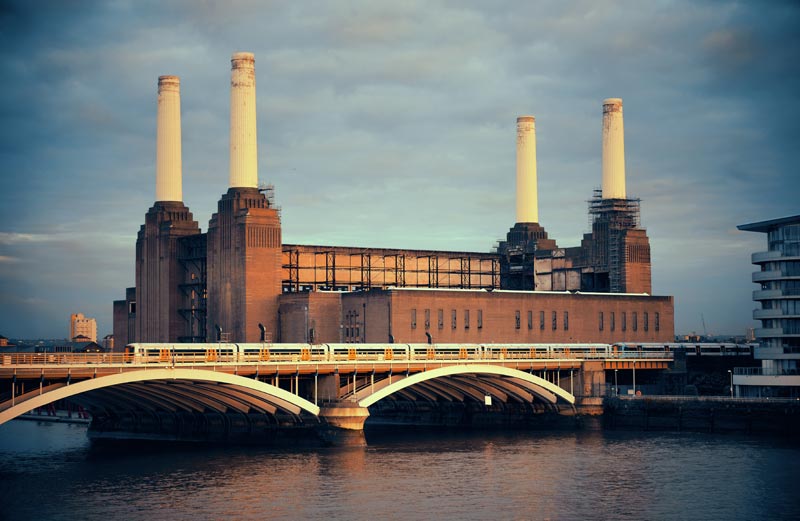 For many, location simply means being in a high-end apartment that is close to where they work or study but for others the prospect of living in or nearby Battersea Power Station is irresistible. Some investors are reporting yields in excess of 4% from those who want the chance to live in or near Sir Giles Gilbert Scott's 1930s Art Deco masterpiece.
It's a demand witnessed by James Fuschillo, Property Director at luxury lifestyle magazine Absolutely London, who shares:
"Nine Elms has been completely transformed from its industrial past and is fast becoming a thriving residential and commercial centre. Since the US Embassy announced their move nearly a decade ago, the area has been an attraction for government bodies and global corporations alike, with over 42 developers buying up land. I am looking forward to seeing how the plans for new green spaces, walkways and public squares will continue to attract both commercial and residential buyers, with the Northern line extension planned for 2020 adding yet another attraction for residential buyers in particular. As 78 properties were sold in May alone this year, I see Nine Elms as a real investment opportunity."
2. Cutting-edge design – 21st century living
With the redevelopment of such an iconic building, it is little wonder then that world-renowned architects have been involved in the buildings surrounding it. The likes of Frank Gehry, Norman Foster, Michaelis Boyd (Alex and Tim) have been working their visions of 21st century living into the development's plans.
Gehry has created (amongst other impressive visions) stunning infinity pools overlooking the Thames for Battersea Power Station penthouses. The Standard describes Gehry's Prospect Place as: "four blocks of tumbling flats clustered around 'The Flower' — a titanium-wrapped tower with petals sprouting in all directions. Gehry's blocks bend over and practically kiss another new development, Norman Foster's Skyline — a sinuous, gleaming, steel snake of a building, topped by a 250m-long roof garden." Gehry himself says:" The power station is centre stage. There is nothing any of us are going to do that's going to usurp that hierarchy. There's a reverence for the precedent when you build in London and the power station is a pretty good precedent. We all love it; we all respect it."
For investors looking for buy-to-let or resale opportunities, names like this attached to the development are a unique selling point. Many of the apartments themselves though are blank canvases and in need of a little interior design flair. A furnishing pack is an excellent investment because it helps tenants to visualise themselves living there far more than an empty white space ever could. We have had great success with our furnishing packages especially in Nine Elms, providing furnishing packages for apartments in Embassy Gardens, Nine Elms Point, Battersea Power Station, Battersea Exchange and Riverlight.
It is fair to say that there are huge benefits for landlords in offering a fully-furnished apartment in a new development. Firstly, the unit stands out; in a sea of white similar units, a tenant will remember a fully furnished one and they can better get a feel for living there. Secondly, by offering a fully furnished unit, you are lessening the burden on the tenant to source furniture and decide on decor when they may not want that responsibility – if for example they are coming to live in Nine Elms from overseas. Thirdly, a fully furnished apartment will likely be snapped up far more quickly than an unfurnished one. We have found that 85% of properties that have used our furnishing packs have let within seven days. For the Battersea Power Station development specifically, a landlord who used our Gold furnishing package was able to let the one-bed property within 24 hours of it being shown to a professional tenant working in the IT sector. Fourthly, tenants are happier paying a premium rent for an apartment that is fully furnished to a high standard. Nine Elms will be attracting tenants who are prepared to pay higher rents just to live in such a stunning development and as such, they will be expecting nothing less than a high-end furnished property. Finally, landlords can claim 10% tax relief if they are replacing furnishings – good to know as you will want to keep your Nine Elms property looking at its best for the long-term.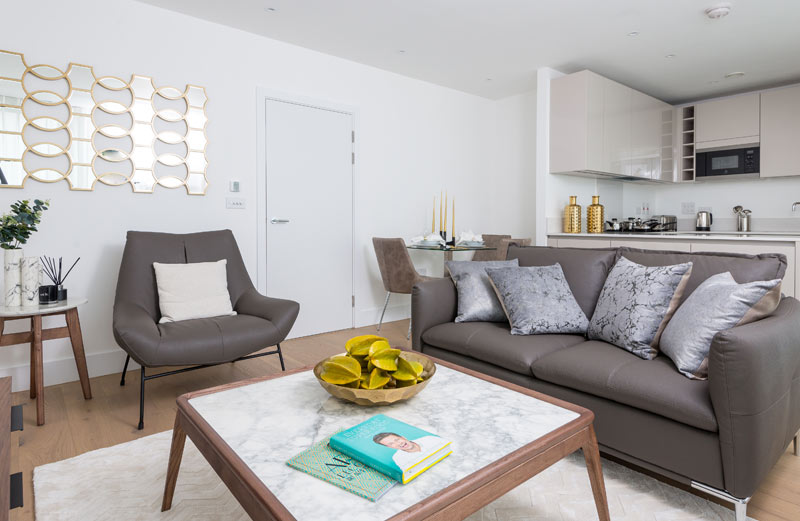 3. Attracting talent – skilled professionals from around the world.
The development is attracting the attention of skilled professionals and global companies. Apple has announced it will be taking 40% of the development's office space as its new headquarters. The US embassy said it would be relocating to a specially designed building by Kieran Timberlake and the Dutch embassy also has plans to relocate there too. These moves from major international organisations show that there will also be a wave of skilled professionals looking to relocate to Nine Elms to live and work.
Corporate tenants, that is an employee whose employer will cover their living costs, are much more likely to be found living in Nine Elms. For landlords, corporate tenants are a much safer option as non-payment of rent is unlikely. For an employer to agree to cover living costs however, the employee must be highly regarded, and perhaps at a senior position. They will naturally expect a rental property to be furnished to a high standard. If you are investing in the Nine Elms development, it is worth investing in high-end furnishings and integrated technology home management systems – so-called smart home systems – to attract the attention of these discerning tenants.
4. Higher rental values – the iconic development warrants a premium
If you are among the 2,481 property buyers in the development (85% of the units have been sold so far) then you'll be familiar with the ability to command above average rents.
For Nine Elms Point, the average rent for a one-bedroom apartment is £1,800-£2,000 per month, rising to £3,500 for a two-bedroom apartment. Within Battersea Power Station itself, the average rent for a one-bedroom apartment is £450 per week, rising to £800 per week for a two-bedroom apartment. For Battersea Exchange, a one-bedroom apartment can command rent of £1,800 per month and £2,200 for two bedrooms. Riverlight can see rents of £465 per week and up to £2,900 per month for a high-end two-bedroom apartment. Embassy Gardens too sees good rental values, £2,300 pcm for a one-bedroom apartment and £2,800 for a two-bedroom apartment. Finally, The Tower, St George Wharf on the fringe of Nine Elms can command £2,150 for a one-bed apartment and up to £6,200 per month for a two-bedroom apartment.
This quick Zoopla check shows not only higher rental values but also the fact that properties are selling and renting quickly. We've seen the desirability of the area first-hand. A two-bedroom apartment in Battersea Power Station's Bessborough House that we furnished using a blend of our Gold and Diamond furniture packages was let within days, for the full asking price, to postgraduate students who paid a year's worth of rent in advance just to secure the tenancy.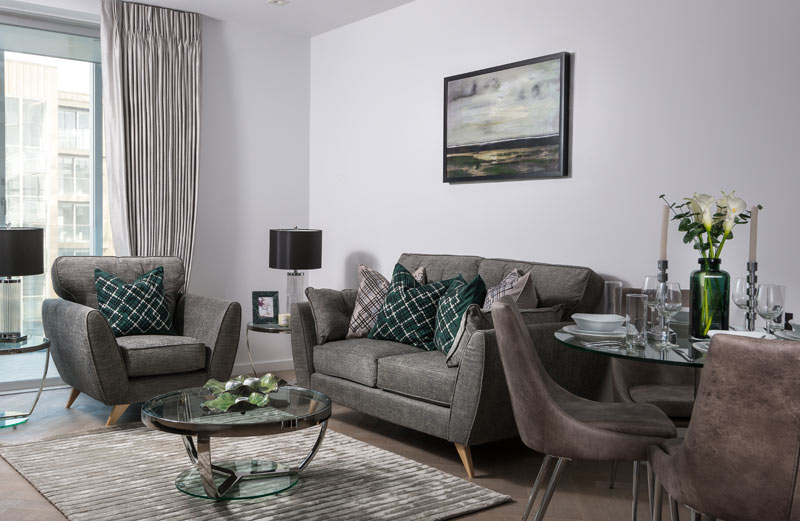 This just goes to show the appeal of fully-furnished properties in a competitive market – even in Nine Elms, an area synonymous with iconic design and 21st century living, you still need a competitive advantage when letting out your property. That's where our furnishing packages can help, as this apartment in Faulkner House shows, even in a desirable development, a stunning apartment can be overlooked unless it is furnished well. After furnishing the Faulkner House apartment from our stylish Diamond pack and our own made-to-measure window dressings, it attracted a large number of keen renters, all willing to pay more than the asking price.
5. Community spirit – the development will have links across the capital
The 42-acre Nine Elms site is the largest development in London's history and represents a great opportunity to establish a thriving new community within London's historic surroundings.
The Northern line extension brings two new tube stations connecting the area to the West End and central London. The building of the extension will support 25,000 new jobs and more than 20,000 new homes while its £1bn funding is provided by a loan agreement from the private sector through a package agreed by Battersea Power Station, Wandsworth and Lambeth councils, the Mayor of London and Government. The funds to repay the loan will be recouped from the local developers benefitting from the boost in property prices. London mayor Sadiq Khan said: "It's great news… Extending the line to Nine Elms and Battersea is going to be a real boost to south London, with the improved transport link helping to provide thousands of homes and jobs for Londoners." Mark Wild, Managing Director of London Underground, adds: "This is a significant moment in the history of London Underground as we create the first extension to our historic Tube network for nearly two decades. The Northern Line Extension will bring Battersea and surrounding areas to within 15 minutes of the West End and City. It will also help us to support jobs, homes and growth in this part of south London, help keep pace with the Capital's rapidly rising population, and is creating jobs through the supply chain across the UK."
New retail units, theatres, art galleries, schools, community parks and spaces will create a cultural centre that is not only convenient for the residents but will draw people from all over London for shopping and entertainment. With this kind of buzz, we expect to see many potential residents deciding to make it their home and many potential landlords choosing to invest after visiting the area. That's just one of the reasons why we plan to open our Nine Elms showroom here in 2018.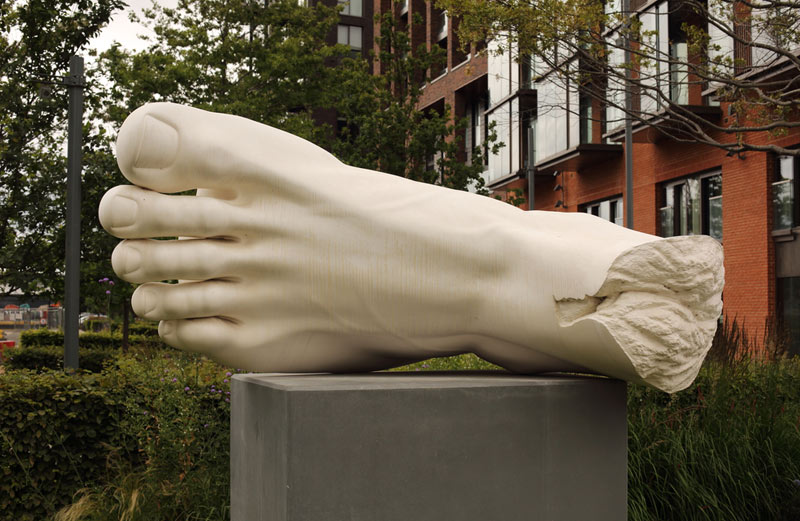 Local Councilor Clare Salier, cabinet member for housing, said: "The Nine Elms area continues to see more and more shared ownership homes being built for local people, along with new Tube stations, green space, schools, health centres, and riverside paths where for decades it had previously been disused, no-entry industrial land." The £1bn regeneration of the Nine Elms area in Battersea and Vauxhall is boosting local services, providing 20,000 new homes, two new London Underground stations, two new primary schools, new health centres, a new cycle and pedestrian network and a new stretch of riverside walk.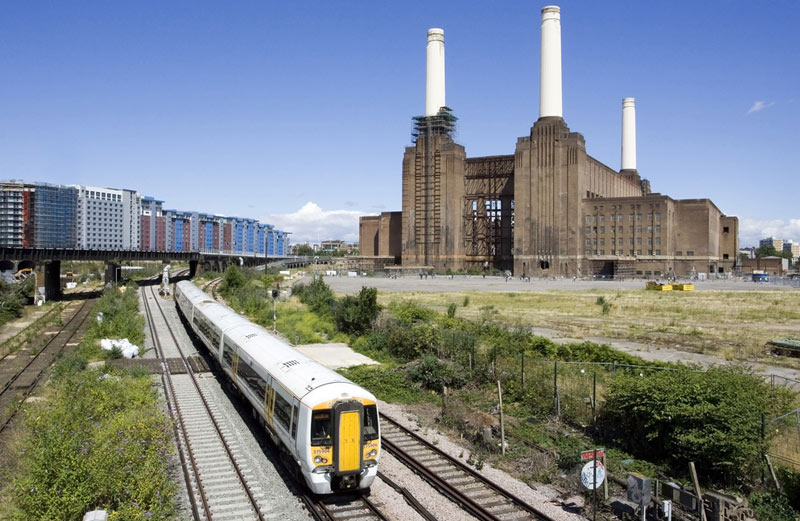 6. 20,000 new homes – this level of development will create a brand-new community
Tiffany Harrison, Lettings Manager, L&Q comments; "Nine Elms is a truly exciting area with the huge regeneration plans making it incredibly enticing for both buyers and renters. Once a collection of warehouses and industrial buildings, including Christies' Auction House, more than 20,000 new homes are currently being built, it will create a brand-new community.
"Location-wise, it doesn't get much better – it's currently just a 15-minute walk to Vauxhall tube station, while the Northern Line extension from Kennington is already underway, which will see a Nine Elms station and Battersea Power Station stop open in 2020, providing even better connections into and around the city.
"At L&Q, we've recently launched 114 homes available for private rental, which have already proved popular. Customers can expect thoroughly modern apartments with either a balcony or terrace, as well as the use of on-site gym and access to a communal roof top, offering views across the River Thames."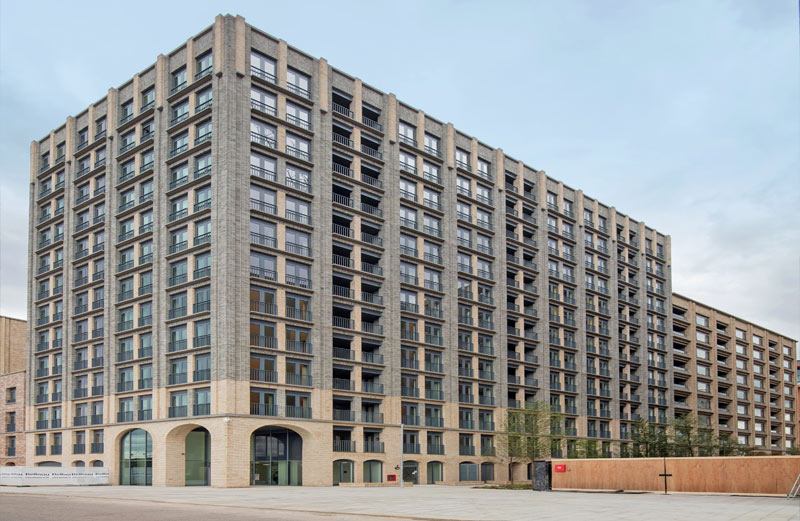 L&Q is one on-site developer who sees the area's potential for residents and landlords. We've seen its potential too; another of the apartments within the power station itself that was furnished with our Diamond package was rented to a professional tenant working in the financial sector within 48 hours for a higher than expected rent.
Private landlord Ms. Alzamil, had used our service before and it was just the high-end finish he was after for his Battersea Power Station investment, "I was highly impressed with the quality of the furnishings provided, along with the seamless installation, aftercare service and the professionalism and expertise of the team which helped me make the right decision for my property. In fact, the furnishing package the InStyle Direct team delivered was a fusion of creative thinking, thoughtful detailing and flawless assembling. I won't hesitate to use them again and I have been delighted with the experience."
7. Just the beginning – Battersea Power Station is just one of many exciting developments being built
While Battersea Power Station is at the centre of the regeneration, it is the satellite investments that mark this regeneration as something special. For example, there is a proposed £40m pedestrian and cycle crossing from Nine Elms to Pimlico from the Danish architect Erik Bystrup that will link the borough of Wandsworth like never before. "From the outset we wanted to design an elegant bridge that provided simple and uninhibited access for all, with minimal impact landings on each bank. We are very excited that this will be the first shared pedestrian and cycle bridge over the Thames, adding to the rich history of London's river crossings," said Bystrup.
Development on site promise more cutting-edge design such as the 50-storey tower Aykon London One designed by architect Kohn Pedersen Fox Associates with a 'Sky bridge' between the south building and north tower. Already 45% of the units here have been pre-sold and it isn't scheduled for completion until 2020. It's Dubai developer proudly noted that it would be: "Our premiere international development outside of the Middle East and a landmark project for the UK's capital."
8. Worldwide interest – Nine Elms is good news for London and the UK economy
The Dubai developer of Aykon London One is just one of the investors with big plans for this London Development. Battersea Power Station itself was bought for £400m by a Malaysian conglomerate who also invested £200m in the extension of the Northern Line with two new tube stations. Battersea Power Station's £7.8bn regeneration is part of the whole area's £15bn investment so far. It is good news for London and the UK economy; private investment of this type improves infrastructure and housing, supports local authorities to undertake urban regeneration projects and shows that there is confidence in the strength of London and the UK's property and business markets on the worldwide stage.
9. Bespoke offer – 10% off furnishing packages for properties in Nine Elms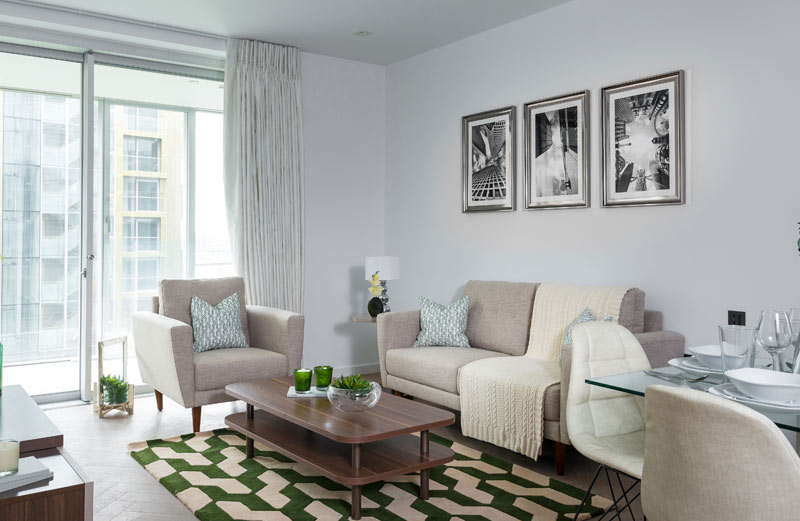 Because we believe that Nine Elms is a game-changing development for London, we're offering 10% off furnishing packages for properties in Nine Elms (Offer valid from 01.11.2017 till 31.12.2017). Landlords can choose from a range of colour schemes and accessories to give their property the look they are after to attract high-calibre tenants. Our furnishing packs come in a variety of on-trend colour schemes to provide your property with a unique look that helps it to stand out to potential tenants and match the high design aesthetic of the buildings in the Nine Elms development. We want to help you to make the best rental investment in London, even better.
Battersea Power Station and the Nine Elms area has so much going for it: world-class architects, major international companies moving to the area, skilled professionals relocating from all over the world looking to rent and prepared to pay higher rents for the location. That's in addition to major international investment including public transport improvements such as the Tube line extension and the creation of cultural centres such as theatres, art galleries and public parks; all this and an iconic building at its heart. What's not to fall in love with at Nine Elms?
If you would like to take up our 10% off furnishing packages at Nine Elms offer, get professional advice on furnishing your property or would like more information on the work we have done in Nine Elms, then get in contact with us today.