Bigger, better, bolder. As the pendulum of trends swings in favour of extravagant interiors, the new year is set to overflow with vibrant décor — and nothing confirmed this more than our team's recent visit to Top Drawer Exhibition, the UK's leading international design-led event.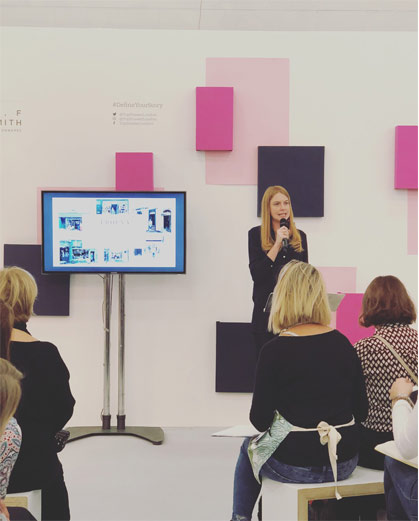 As online marketplace Trouva unveiled their forecast for 2018's interior trends, an avalanche of vibrant colours and striking patterns had our design team excited to incorporate and add unique twists to this decorative aesthetic.
From a courageous clashing of colours to statement finishes, it's time to embrace excess.
More is More– 'Maximalism'
A 180 degree turn from last year's simple, Scandi style, 2018 is all about the opposite: a daring trend, free of rules and constraints.
Where a minimalist home champions clean lines and open spaces, a maximalist home is busy, striking and captures the eye. It means more of everything — filling every nook, cranny and corner with intricate details, experimenting with unusual colour combinations, layering patterns and textures. With maximalism, you can always expect a uniquely decorated scheme that is bursting with character.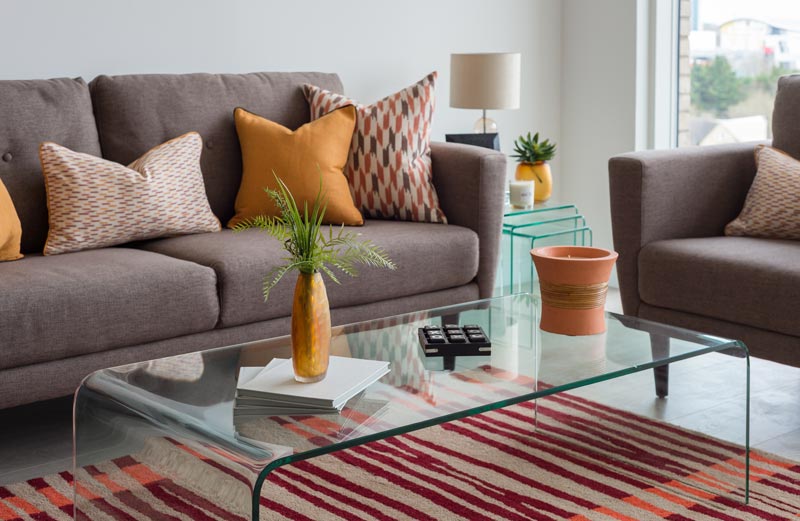 An ornamental theme comes alive at this living room, furnished by our design team. Against a crisp white backdrop, a patterned carpet, bright cushions and beautifully-shaped vases and ceramics lend to a dynamic, layered space. At its very core, maximalism is about indulging in an exhilarating mishmash of design elements; ones that add up to a show-stopping look.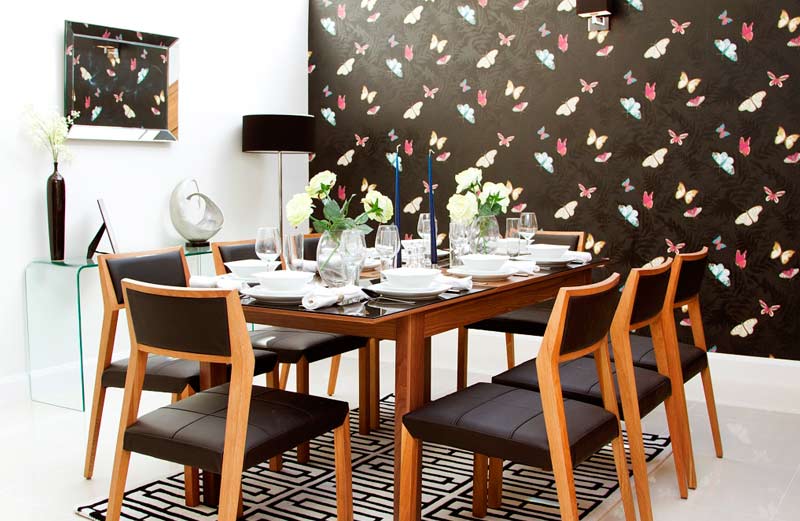 From wild wallpaper to ornate objects, a touch of maximalism is, in fact, a wonderful way to shake up interiors that feel tired and worn. All it takes is a little letting go.
Art Imitating Life – 'Line Drawings'
What could be more beautiful than the human form? One of this year's interior trends sees hand-drawn sketches and sculptures translating themselves into everything from vases to cushion covers.
An extension of the maximalism trend, this artsy decor is bold and playful, adding an instant edge to any sofa, shelf or coffee table. With the year seeing a revival in life drawing and a burgeoning interest in shapes and silhouettes, it is only natural that this illustrative element is taking over decorative accessories, too.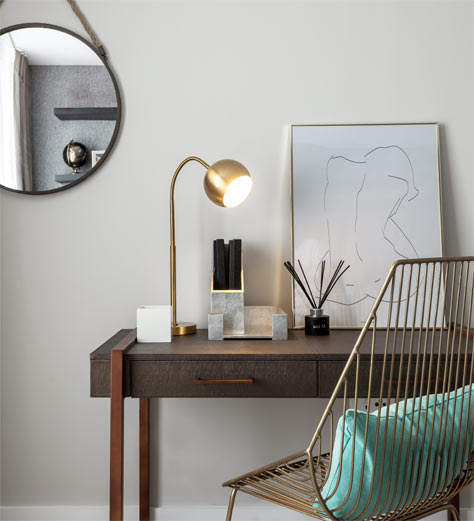 Sitting pretty on top a table, a simple silhouette gives this work area a refined, elegant edge. Whether it's whimsical ceramics or framed prints like the one above, this trend is a charming, quirky addition to any interior. Time to give those desks, tables and shelves a creative makeover.
The Beauty in Imperfection – 'Wabi-sabi'
Rolling off the tongue and into interiors far and wide, wabi-sabi embraces impermanence, incompletion and the perfectly imperfect. 'Wabi' alluding to simplicity and 'sabi' to a sense of timelessness, the Japanese art-form and aesthetic finds beauty in the unconventional: irregular shapes, rugged textures and subdued colours. It is all at once unusual and charming.

Where to start? Infuse wabi-sabi into a living room, dining room or bedroom with handcrafted objects. Upon closer inspection, ceramics reveal textures and subtle imperfections that strike a balance of simplicity and complexity — they inspire a timeless quality and are an effortless addition to any interior.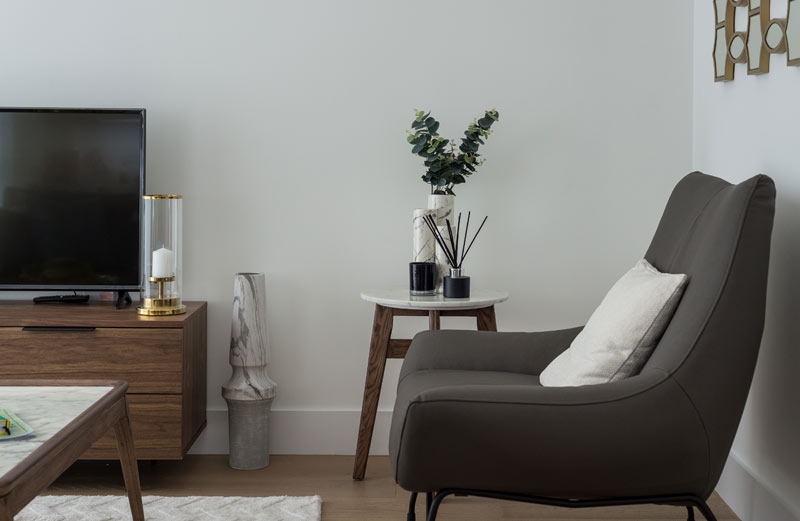 Our design-led furnishing packages offer interior accessories to give any property a wabi-sabi touch. Wool rugs, mirrors, scatter cushions, vases and candles, there is something for every surface.
Back to Earth – 'A far-fetched colour palette'
It may be cold outside, but 2018's rich, earthy palette, curated by the world leading colour expert Pantone, is anything but'Far-fetched'. It boasts a warm, welcoming and earthy hues balanced with some rosy tones. Shades of red, brown, and blush pink soothe and energise, providing the perfect sanctuary to reset before or after a long day.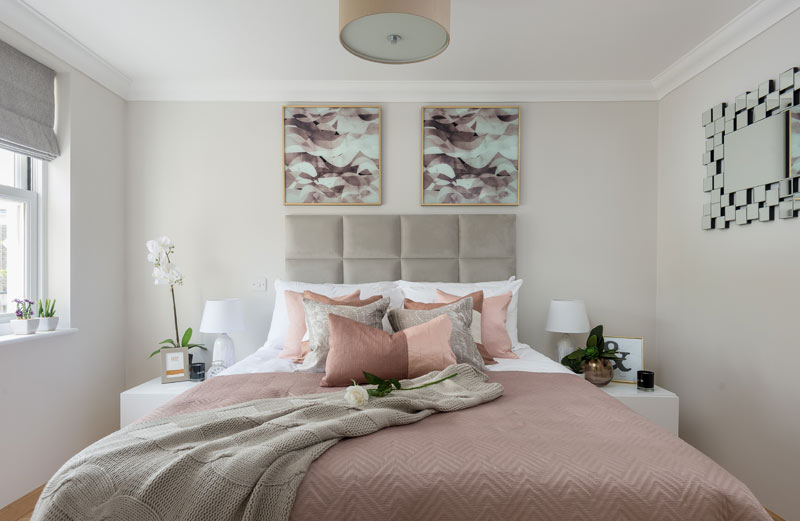 Layered cushions, throws and abstract art bring out positively blushing tones in this city bedroom, and offer just the right amount of colour. If your interiors are craving a hint of hue, blended rosy tones can instantly refresh any space, creating a homely aesthetic that will soothe the soul.
Bring Nature Indoors – 'Air-plants'
When city life is proving stressful, there's nothing like the smell, sight and touch of nature. And if escaping skyscrapers for the wooded valleys and downland meadows of the countryside is not possible, there's one solution: air plants.
A crafty way of incorporating green into an urban home, air plants are low maintenance (only needing a light mist of water), and, when artfully hung around rooms, look simply sublime. It doesn't stop there — as dainty as they are, air plants significantly improve air quality, adding fresh circulation and making any urban dweller feel revitalised.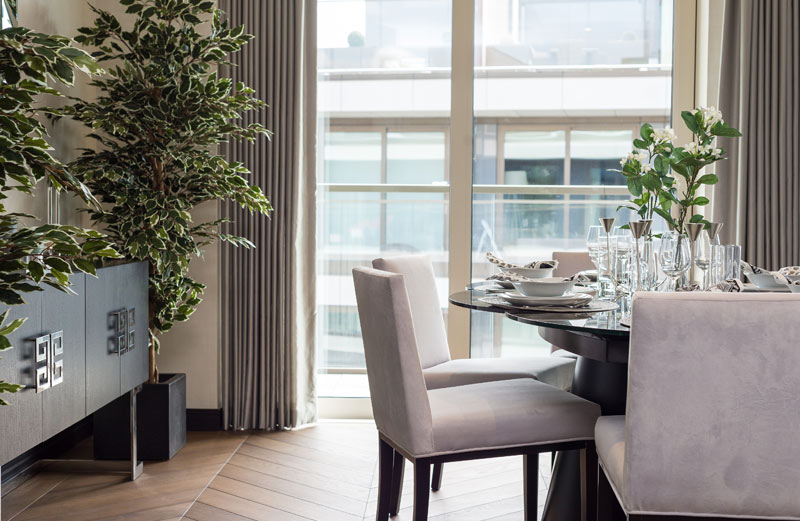 Plus, with every air plant comes an elegant air plant display. Be it geometric planters, light bulbs or patterned pots, there's something to suit any contemporary décor. Time to source some colourful foliage.
Light the Way – 'Statement lampshades'
Saving the biggest and boldest for last, statement lamps are set to brighten up homes with their stunning, sculptural designs. Illuminating a living room corner or a cosy bedroom nook, lamps can act as a focal point and conversation starter for any space.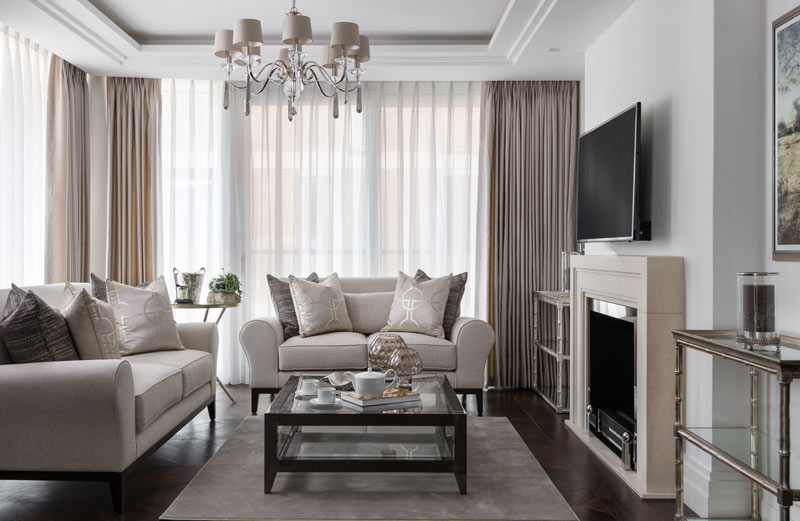 Gracefully suspended from the ceiling, a majestic chandelier beautifully complements the luxurious sofas and metallic details at this modern apartment. Complete with chrome pendants and multiple shades, the lamp is a true statement piece and the perfect finishing touch to an opulent living area.
Prefer your lights sleek and seductive? Or curvaceous and chrome? Whatever the style, a statement lamp is sure to add a glamorous focal point to your room.
Our design team strive to stay ahead of trends to give properties a competitive edge and wow-factor. Inspired to refresh your interiors for the New Year? Contact us today to discover how our services can help you.