As every landlord knows, furnished properties rent more quickly and for those that are furnished on trend and to a high standard, the rental value often increases too. I regularly attend design industry talks and events (as does the team) so our furniture packages are design-led and on-trend. Decorex autumn/winter 2017/18 was a good example. Colour Hive introduced next year's big four: Sentient, Punk, Dream and Grace; the team has already used elements of these in the following projects.
Sentient
Technology forms a significant part in our day-to-day lives and this trend gives us some insight into how our homes could look in the future. The scheme features cooler colours, high-shine materials and metallic finishes. There is a feeling of luxury; that the technology makes our lives more efficient so there is more time to enjoy our time at home.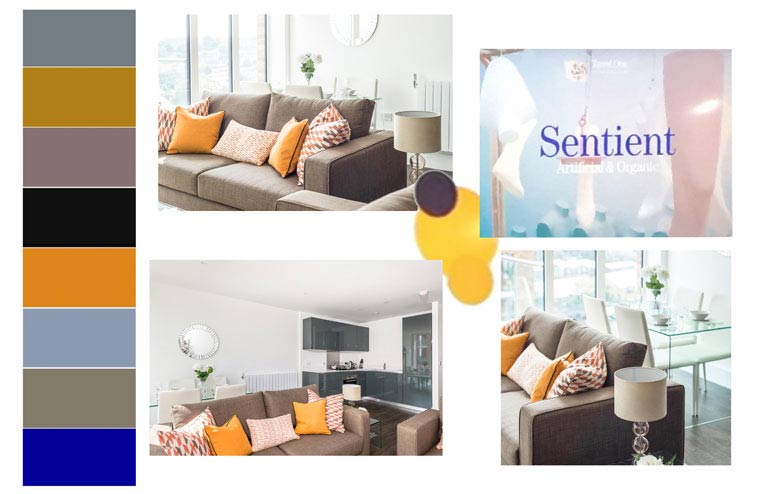 Photograph : Yellow Gold Range
The furnishing project pictured, is a great example of Sentient's blocks of colour and shape. Cool tones of grey and white are balanced by the strong mustard and bold patterns on the cushions. High-gloss materials look futuristic and luxurious. The team used their knowledge of this trend to create a cutting-edge furnishing package that would ensure the landlord's property let quickly and for the expected rental.
Punk
This celebrates freedom and self expression through our home's decor. Multiple materials, colours, textures and prints are layered in a playful and individual way. For a landlord however, a property that has too much character may not appeal to many tenants who like the opportunity to add something of their own personality. That's why the team at In-Style have cleverly used elements of the trend to create a design-led project that will appeal to all.

Photograph : Tailor-made package
The ordered lines of this room are disrupted by the bold splashes of contrasting colour on the cushions, the smoky glass lamp and the mirrored side table with fern leaf etchings. These statement pieces look almost gritty and urban with the rest of the décor. This contrast is very 'Punk' yet, it does not make such a statement that it is off-putting to tenants. Use of the trend breaks the monotony of uninspiring, bland furnishings and makes the property really stand out.
Dream
Dream's theme is one of whimsy and romance. Tones of white and blue evoke a feeling of sky, while transparent materials such as glass evoke a sense of water. In the furnishing project pictured, the design team created this same sense of space and air. The Perspex dining table looks like frozen water, the soft furnishings in shades of blue and grey look like cloudy skies and the hall mirrors shine like dew drops in the morning sun.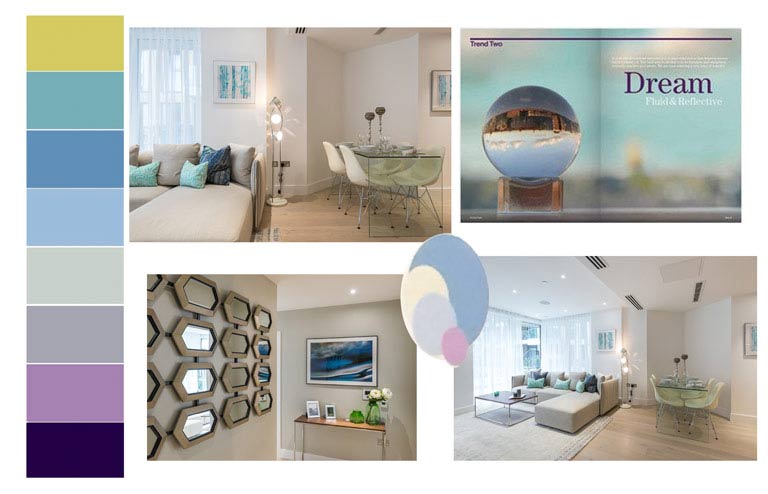 Photograph : White Diamond Range
If you have crisp white decor and neutral furnishings it can look too clinical; Dream will help to soften it. Any prospective tenant viewing multiple properties is likely to remember and prefer one where the furnishings are comfortable and contemporary; that's why our team makes sure the furnishing packages are cutting-edge.
Grace
Finally, this is a celebration of the quality and the skill of traditional craftsmanship. Textiles with warm, natural hues in an interior bring a sense of luxury as this furnishing project shows. It cleverly remains neutral but it has character, it looks practical and comfortable at the same time. Geometric prints and patterns on soft furnishings are perfect for this trend adding a stylistic twist and really livening up a neutral scheme. For a tenant, a property that looks neutral yet warm and welcoming is a must, but one that also looks trendy and fun will have the edge.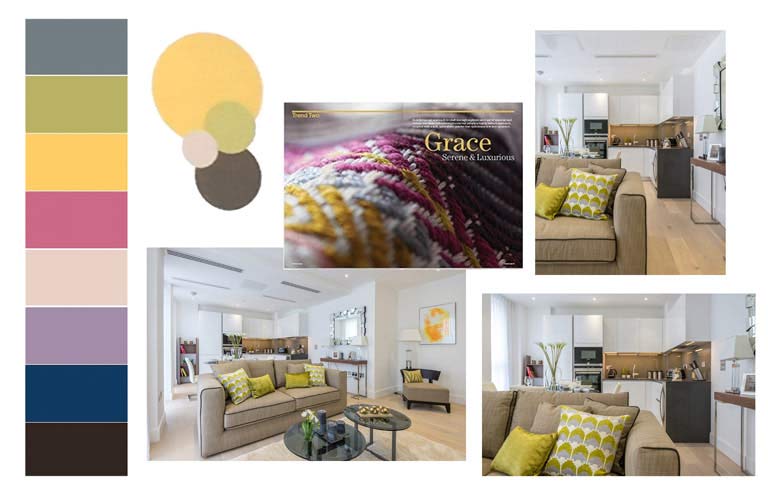 Photograph : Champagne Diamond Range
These four trends will be shaping interior designers' look books and projects in the year ahead. We've already introduced these trends into our furnishing packages so that our clients get the benefit of an interior designed look at no extra cost.
If you would like your property to stand out in today's property market and achieve a faster rental, get in touch with us today for a free, no obligation quotation.