Q: How much should I spend when furnishing my buy-to-let property?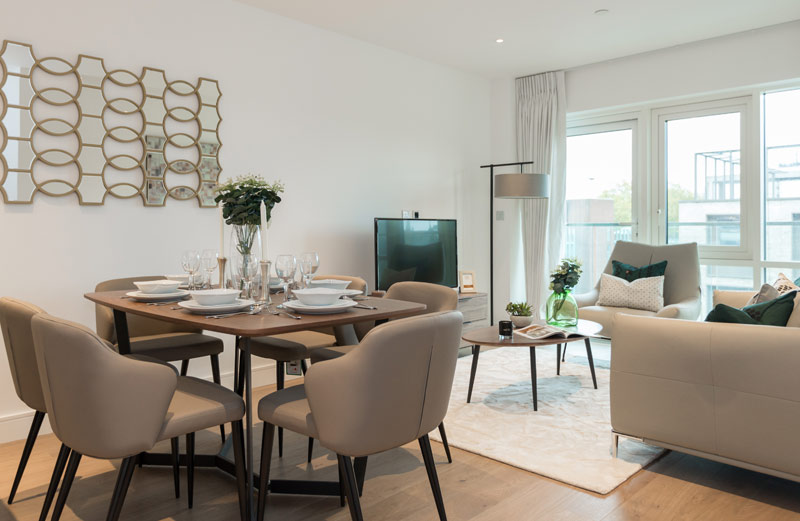 A: When bringing your rental property to the market there are many things to consider, but one of the key questions that over half of all new landlords ask is exactly how much should they spend on furnishing. The answer is perhaps pleasantly surprising.
Know Your Target Tenants
In fact, furnishing your empty property from head-to-toe and achieving a seamlessly-executed, tastefully-designed look needn't cost a fortune. Most importantly, you want to let your property quickly so before furnishing your rental property, it is important to evaluate the kind of tenant you wish to attract, and find out what type of furniture and home décor would accommodate their needs. For professional or corporate tenants who generally have the best rental budgets, – stylish, highly functional furniture pieces and savvy smart home technology that reflect their status, income and aspirational lifestyles. For families – well equipped kitchens, spacious dining tables and rooms that spill with homely comfort. The key to furnishing a BTL property lies in choosing good quality furniture to match the needs and priorities of your prospective tenant, and breaking the bank to achieve this is not a prerequisite.
Opt for Clean, Modern and Durable
The solution is simple: design-led furniture packages that help take the hassle out of furnishing a rental property. From sofa, beds, dining table and chairs, to electrical items, linen and style statements such as cushions, throws and artwork to give your property a designer edge, furniture packages provide you with everything you need to make your new property stand out from the rest. If you're a buy-to-let landlord, furniture packages can save you both time and money. But you can't afford to sacrifice quality – even in the more affordable sector. In our experience, you should be looking to spend around 1.5% spend of the purchase price of your property and this will achieve the required result to let your property quickly and attract the best tenants. Specifically designed to meet a range of styles and price points, our Gold and Diamond furnishing packages strike a perfect balance: stylish, comfortable and most importantly, great value for money.
Expensive Doesn't Always Mean Better
Whites, soft greys and taupes, glass-top or wooden finishes, modern, transitional, and classic styles, our furniture packages have top London tenants in mind and cater to a high-quality look and feel without the prohibitive price tag. It is often a misconception that fancy, expensive furniture equates to a quick, effective and even appreciated rental, and one case study in particular illustrates this —
Owning a property in the NW3 area, a landlord suffered a setback when a tenant's discarded cigarette butt caught fire, burning everything within the home to ashes. The landlord had previously fitted the property with a long inventory of high-end Harrods furniture in order to fit into the upmarket surroundings and to attract a professional tenant, but once our team were assigned with the job to refurbish and furnish the property, we could see that our Diamond furnishing package was perfectly adequate and a more cost-effective, equally stylish alternative. Once the apartment was refurbished and our furniture package installed, it was let within the first few viewings to a working professional at full asking rental. The lesson learned here is that as a landlord, you cannot afford to get emotionally involved with your rental property. Putting in furnishings that you personally like, might not be to the taste of the average London tenant. Our on-trend furniture packages are specifically designed to get the right type of tenants into a property who are both willing to pay the asking rent and sign a long-term contract
Spend Smart
In closing, practical, hard-wearing and furniture in neutral tones goes a long way in attracting a more reliable tenant who will treat the space as if it were their own – and this precise furniture doesn't need to swallow up a large portion of your budget. With 85% of properties we furnish let within 48 hours, the quality and design of our packages have proven time and time again to be effective in facilitating quick lets and appreciated rentals.
As we've mentioned before, a figure of just 1.5% could be all that is needed to transform your vacant, unfurnished property into an income stream within a very short space of time.
Looking to maximise your investment and secure high-calibre tenants and quick let all at an affordable price? Get in touch with us today and let us help you bring success to your property portfolio with our design-led packages.