Struggling to let your property? You're not alone. In an increasingly competitive market, landlords must go the extra mile to make their properties stand out among other units in new developments. And though there are various methods of attracting high-calibre tenants and a swift rental, none stands out more than a stylishly furnished property.
As a tenant walks through the door, impression counts. A property with an expertly curated, design-led furnishing scheme will not only look aesthetically pleasing, but will also allow any potential renters to envision their future home: the living room they will relax and while away the time in, the dining table where they'll enjoy their meals, or the luxurious bed of cushions and throws that they'll sink into after a long day.
The power of furnishing is prevalent at this three bedroom apartment in Beaufort Park, North London, styled by our design team. Originally marketed as an unfurnished property, the apartment struggled to capture the attention of tenants after five months. Advised by the letting agent to furnish the property, the landlord used our services to transform each room. After completion, the apartment secured a tenant at an appreciated rent — all in less than a week's time.
Picking the Right Furniture Scheme
Having stressed a strict budget, the landlord wanted style without an excessive price tag. With this in mind, our furnishing specialists put together a carefully selected scheme that would help maximise the potential of the property without compromising on the quality of furnishings or cutting into the budget.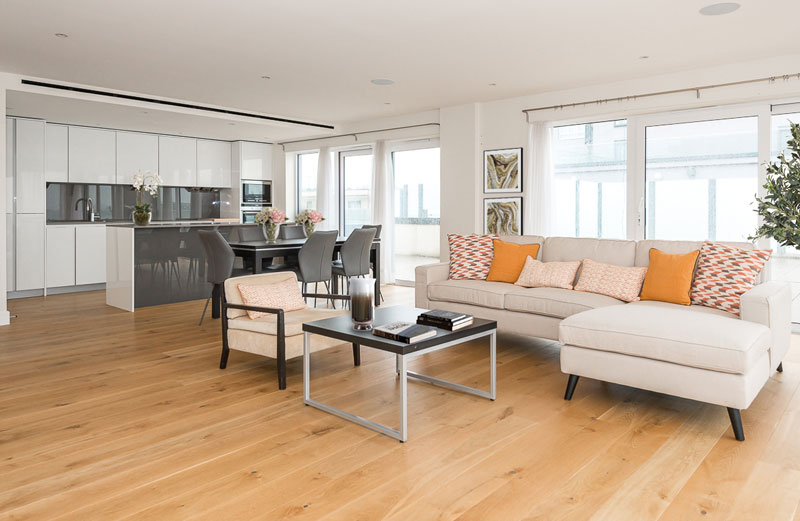 Our Gold range was the perfect fit. With stand-out contemporary pieces and an effortlessly cool, understated palette, this scheme works exquisitely with the apartment's modern, open-plan layout. Elegant, neutral-toned furniture is complemented by bold pops of pattern and colour for a trendsetting interior, with our exclusive brand of soft furnishings and accessories adding a striking touch.
Initially lacking the character and charm a city dweller seeks, our design team used their skills and keen eye for detail to turn an empty shell into a unique interior. With many units in new-build developments at risk of being looked over or forgotten, our Gold Package gave this high-rise apartment the edge it needed to catch the eye of a long-term tenant.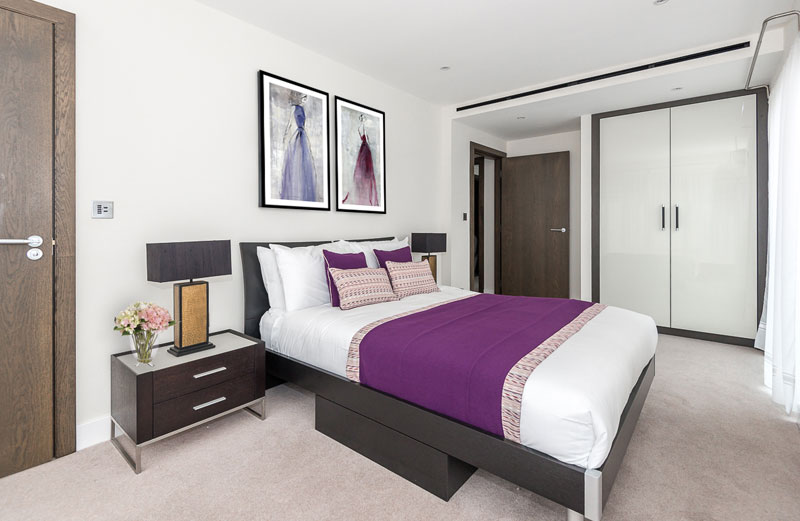 Unleashing The Property's Potential
When furnishing a buy-to-let property, it is important to showcase all of its potential for future tenants. A thoughtful, coordinated interior will no doubt leave a lasting impression, resulting in a swift rental and minimising void periods. However, unleashing a property's potential is an art — one that should evoke a sense of style without being too overpowering.
Our furnishing schemes have mastered the stylish yet neutral aesthetic, with each range boasting enough design elements to highlight each room to its full potential while also letting tenants envision how their own personal style could fit in.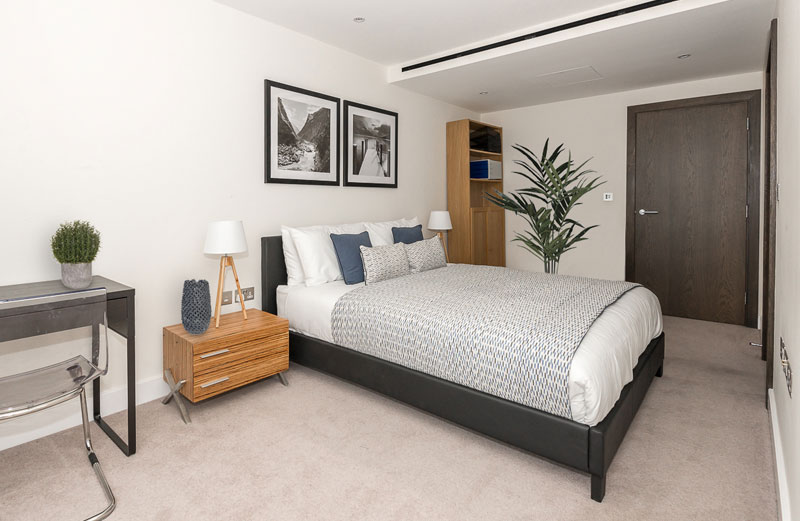 As seen in this Beaufort Park bedroom, our Gold package gave the original blank canvas a sense of depth, character and focus. Blue-hued soft furnishings adorn a welcoming bed, while a mid-century modern lamp shade stands gracefully on a polished wood table. Tying the room together with just the right amount of panache, monochrome prints and a statuesque plant make for a homely atmosphere.
Helping in showcasing the apartment's every corner, our design-led furnishings were able to turn dull into desirable in less than a day. Plus, the apartment's blend of style and practicality ultimately attracted a student as a tenant, whose busy lifestyle sought a calm, relaxing sanctuary.
The Takeaway
Is it worth the additional investment for a landlord to furnish a rental property? Absolutely.
Furnishings maximise the potential of a property, helping landlords obtain quick rentals from professional tenants. Additionally, furnishings also generate potential for an appreciated rent. Our project at Beaufort Park is a prime example — after undergoing an interior transformation with our quality furnishings, the three bed apartment attracted a keen tenant who was willing to pay 20% more than the asking price in order to secure their ideal home. The apartment stands as a stylish testament to the power of furnishings; its high-end appeal undoubtedly leading to its quick let and appreciated rent.
Need a competitive edge on the crowded market? Our furnishing ranges can increase the appeal and value of your property. Contact us to get your journey started.