It is an indisputable fact that the property listings that get the most clicks are the ones which are furnished. According to UK estate agent Knight Frank 93% of successfully let flats were furnished and that professionally-styled properties achieved an 8.1% sales premium over unfurnished properties.
The statistics are not surprising when you consider that most London property searches now begin online, most typically on a portal like Rightmove or Zoopla. With many properties boasting nearly identical descriptions and only thumbnail photos to entice users to click on a property, the photo has to stand out to lure potential buyers and tenants. It is one of the reasons why the neutral interiors of the noughties have given way to stronger colours; bold shades that stand out on web pages.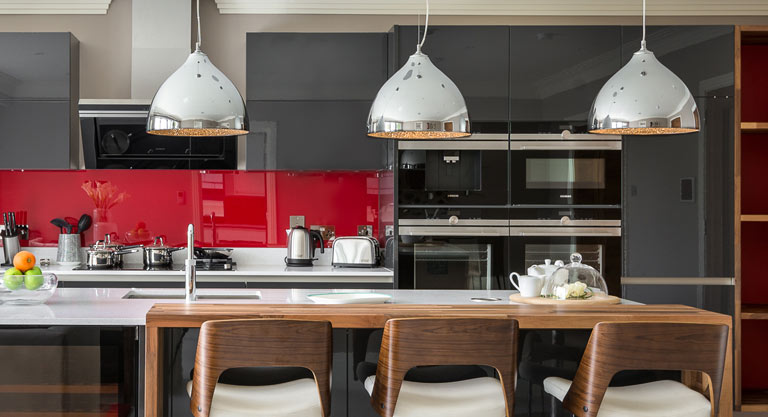 Tenants and buyers rarely pick up the phone until they've already spotted something they like. Whereas once a potential client would describe what they were after and estate agents would match them to the right house or flat, that's just not how it works now. By the time they pick up the phone, they already know what they want to view.
One of the key services we offer is homestaging, designed to help vendors and landlords achieve the best possible sales price and rental yield when they come to market their property. It's of particular use when a property has been slow to attract the right level of interest. While homestaging can seem costly at first, it usually pays dividends. One particular vendor had a three bedroom apartment in Victoria which had sat on the market for months. We advised him to stage the property and after a £50,000 overhaul, the property sold for £1.5 million, and the buyer even bought the furnishings.
Homestaging entered the public consciousness after the television programme House Doctor debuted on Channel 5 in the nineties. A succession of imitators have continued to popularise the concept although many have not evolved from the original idea of merely decluttering.
These days, buyers are far more sophisticated and simply decluttering is rarely enough to make a house or flat stand out. We avoid simple edits because editing alone isn't enough to let or sell a property. While a careful edit might make the house look tidier, professional stylists start from scratch, painstakingly creating the interior that is most likely to appeal to the potential tenant or buyer. Firstly, we carefully research the local target market to discover who these potential buyers and tenants are likely to be and how they aspire to live. As the saying goes, the devil is often in the detail and it is the level of detail that makes for a successfully home-staged property.
Since our company was founded in 2004, we have staged different properties of various sizes and have helped properties sell quickly at an appreciated asking price. Based on this experience, we have come to realise that a property that have been staged from scratch bear better results than the ones that solely undertook the decluttering path.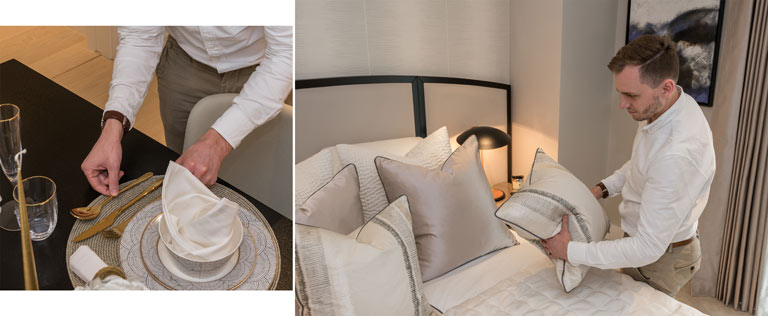 We then identify the lifestyle habits of our target client. If the potential client is a busy professional, for instance, we create a bespoke interior that places the aspirational brands preferred by that market throughout the property while lifestyle touches such as a butler's tray with a stylish tea pot, cup and saucer can help potential owners imagine the bedroom as a welcome retreat from a busy world.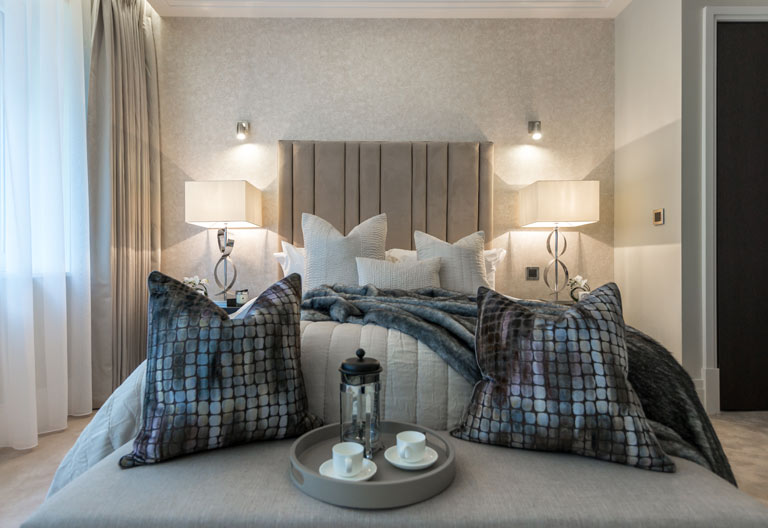 We once had an instance where the décor was so apt that the purchaser bought it purely on the basis of the wallpaper we used. The frequent traveller fell in love with the wallpaper featuring an antiquated world map. He bought the house on the condition that the wallpaper had to remain in place.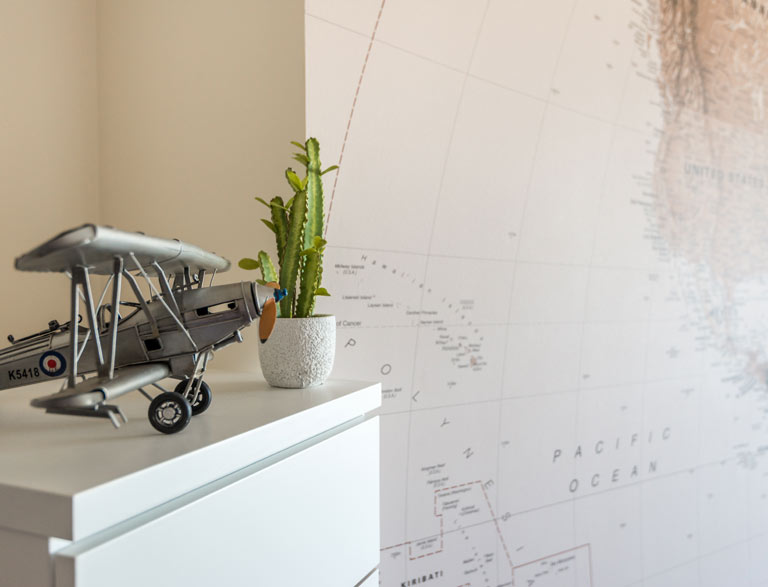 In the example featured below, the vendor was the proud owner of a collection of old and new movie posters which we framed and hung on the wall as a showcase feature. The prospective buyer was a movie fanatic and instantly made an offer.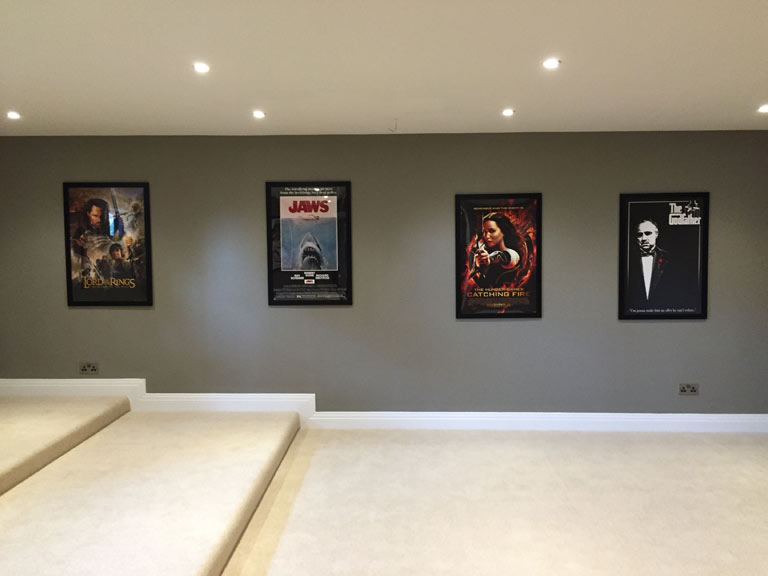 A recently completed project was the staging of a client's dressing room, designed to attract the independent, high-flying professional target market. We designed the room around a central theme, fashion, which worked to great effect.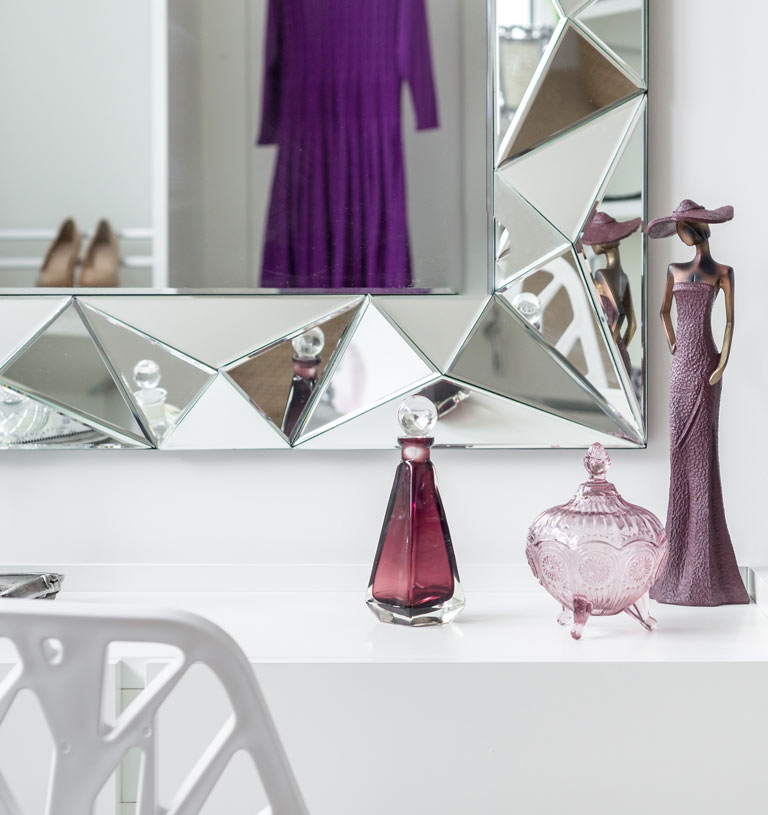 It's the simple little touches that can make all the difference too. Estate agents often advise roasting coffee or baking bread just before a viewing, but this can prove to be a time-consuming and costly affair. Using our in-house diffusers, warm and welcoming aromas are infused around the home, which can increase the property's chances of sale.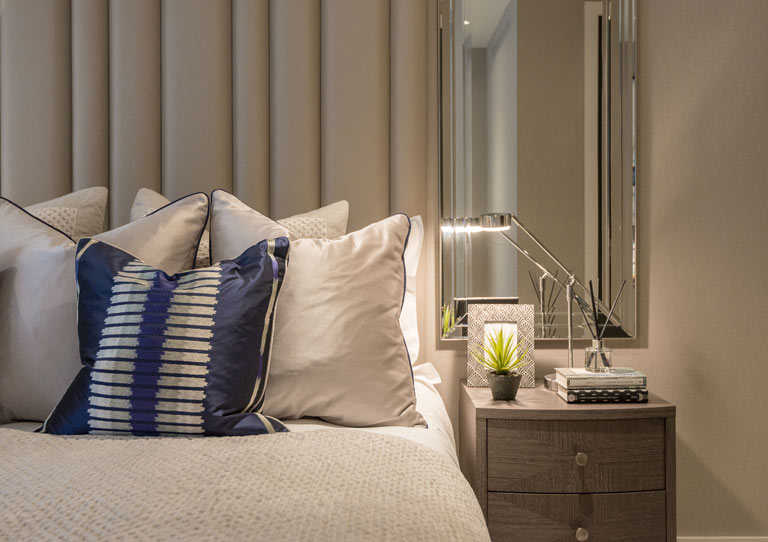 By correctly identifying the target demographic like this, we can successfully design interiors that not only match how the client currently lives but how they want to live. It's one of the reasons why we're a trusted company in our field and a credible source for estate agents, landlords and private homeowners looking to maximise their profits.
We are also adept at maximising space. With the average one-bedroom apartment in London measuring a mere 46 square metres (495 square feet), the challenge is to make a small space feel spacious. By using clever storage techniques, space-saving furniture and custom designs, even the smallest flat can be made to feel far bigger.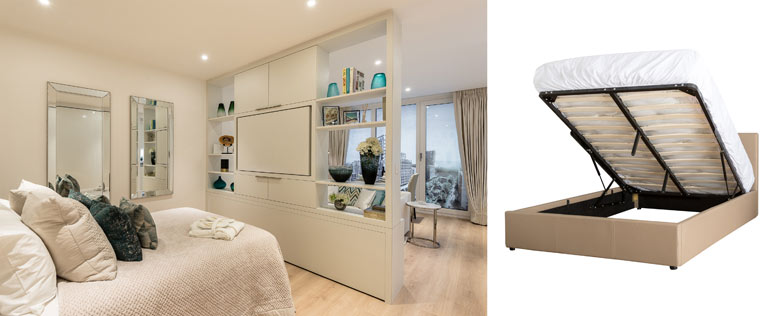 Our clients tell us that our expertise and objective view of their property helps them to achieve far more, both in terms of interest and price achieved. Objectivity is probably our greatest advantage as we can look beyond their personal tastes and instead, tailor the interior to suit the tastes of the prospective buyer or tenant.
All that said, professional home styling is not enough to sell or let a property on its own. While it can certainly help it stand out – especially in a difficult market – it must still be correctly priced for the market. We set a scene in which potential tenants or buyers can imagine themselves, unlocking a property's full potential but we cannot relocate the property closer to their work or boost the value of the property far beyond what the local market can withstand. We advise our clients to listen to agents' advice on the demand and pricing.
The other advantage, of course, is that we do all this using our in-house team of skilled professionals. We take care of all installations and can usually transform a property in the space of two days at a cost that is typically far less than a landlord or vendor could source from a high street supplier. With this bespoke service, clients avoid a bland, one-size-fits-all approach and instead, receive a custom design which incorporates the latest interior trends. Not to mention the amount of time and effort saved by not having to trawl the high street.
Our overseas clients tell us this full service approach is particularly of value, as geographical location and time differences mean they need a supplier they can trust to oversee the entire project. Our overseas clients can also speak to locally-based consultants in Hong Kong, Singapore, Kuala Lumpur and India in their native language, in their time zones, who then liaise with our professionals here in London.
Once the home-staging is completed, we then send in professional photographers to showcase the property at its best; the images being free of charge for our clients to use when marketing their home.
Our furniture rental scheme ensures there's no need for clients to store or return items themselves after they are needed. After the property has been successfully sold or let, our team is on hand to pack it up and take it all away.
If you are looking to maximise your property's potential, give us a call to discuss your needs or read more about our home-staging service here.