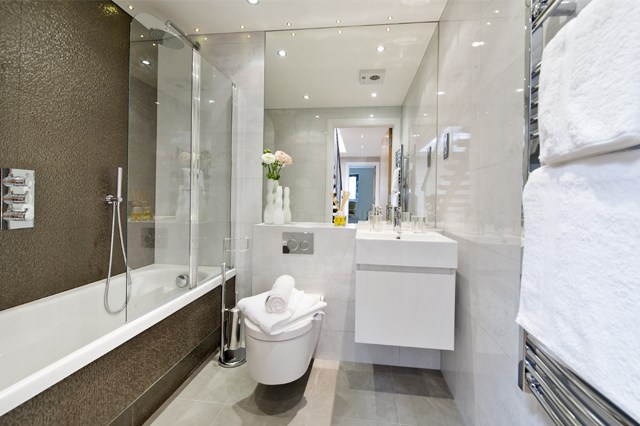 Anyone who has ever sold a property knows that presentation has a real effect on how long your property takes to sell – and for how much. But a project we carried out recently for a client with a property in Victoria, really illustrates how effective it can be to dress a property to sell.
Property Sells Within Four Days of Refurbishment
The property had already been on the market but hadn't sold so the client brought us in to carry out a makeover, and after a £50k refurbishment, the property went on to sell for £1.5m – within four days!
So how Did We Go About it?
Clearly, this project involved more than a little redecorating! It wasn't a particularly old property, around 13 years old, but the interior layout wasn't ideal and some of the rooms were awkward shapes.
We recommended some structural alterations, removing an internal wall in the hall to open up the living space to create a more spacious feel. We also changed the bathrooms to give them the contemporary, luxurious feel that buyers expect.
A Flair for Design
I worked with one of our designers, Zoe-Hayley Baksh, on the project and she came up with some stunning ideas for the interior. First impressions count so she created a welcoming entrance using a modern glass console table and mirrors to create an illusion of extra space. She added simple, floral artwork and a cherry blossom floral arrangement which add colour and look fresh and contemporary.
Key Design Trends
In the main living space, Zoe-Hayley used a beautiful wallpaper with a subtle, metallic print inspired by natural textures – a key trend for this season. Neutral tones create the illusion of a larger space so she used these for furnishings and accessories, while accents of green form a calming ambience. A corner sofa in sand creates plenty of casual seating, complemented by a large cream rug beneath the sofa and dining table. Dark wood furniture with brushed metal legs contrasts with the light wood of the flooring and doors. Voile roller blinds are a great way to screen bright sunlight without darkening the room throughout the day.
In the master bedroom, Zoe-Hayley chose a really dramatic look using metallic, monochrome wallpaper with a bold, geometric pattern, coupled with a glamorous, vinyl panelled headboard. Accents of taupe soften the overall design, with rich purple tones creating an opulent and luxurious space.
In the second bedroom, aqua wallpaper with a metallic, geometric design creates a tranquil space for guests – the aqua colour is soothing and really softens the contemporary scheme.
Attention to Detail
Clearly, £50k is a substantial sum to spend on a refurbishment but the investment paid off and in fact, the buyer liked the furnishings so much they bought them too! While not everyone has that sort of budget, it shows how focusing on presentation really can reap dividends.