London is known for its many elegant parks and open green spaces. So Londoners are very much in tune with the changing colours and beauty that each season brings. And nature was the inspiration behind the design scheme I have created for a three bed, duplex penthouse at The Avenue, a brand new development from Regal London in Queen's Park, North London. The showhome is situated in this new residential development in a quiet, leafy neighbourhood, close to parks, so will make a perfect home for busy families who enjoy being outdoors, yet love to relax in style after a busy day.
With its many large windows, sunlight floods into the home throughout the day and this light-filled space is such an important feature of the property, allowing me to really play with vibrant colours, against a backdrop of sophisticated neutrals. I chose a palette of blues, greens and browns to echo nature's own colours, including vibrant pops of royal blue which are fresh and modern.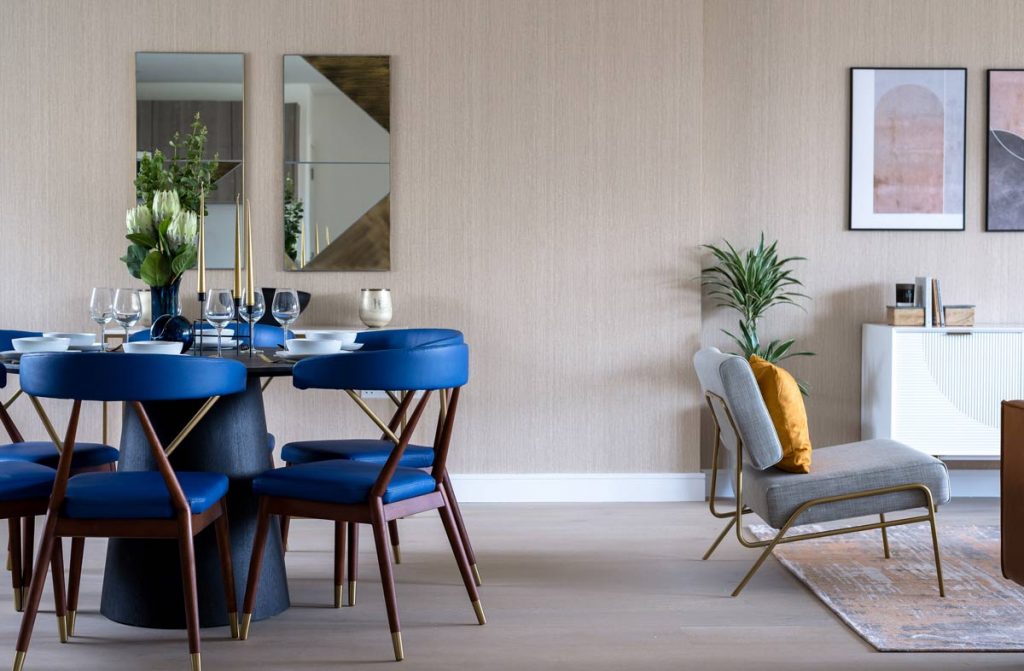 My aim was to create a welcoming, comfortable and multi-functional living space that would work for the whole family – adults and children. The choice of furniture was pivotal to the scheme's success so I chose a beautiful leather sofa, together with a mix of dark and lighter furnishings that would create a modern look. To add to the homely feel I created layers of texture and warmth with throws, cushions and other soft furnishings.
Every room has its own story to tell ….
London is a city with an intrinsic sense of history and a timeline which dates back over 2000 years. The River Thames lies at its very heart so I wanted to reflect this marine heritage in my design. Brass is timeless and historic at the same time, echoing this nautical idea, so this is the finish I used as the main accent throughout the interior, adding elegance and interest to each space. In the main living space, I used a mix of brass and marble to create an antique feel, complemented by crisp, contemporary whites.
My favourite bedroom has a series of three large antique-look maps of London and the River Thames which adds to this sense of London's history and its centuries of architecture. A fascinating combination of old and new.
Practical as well as beautiful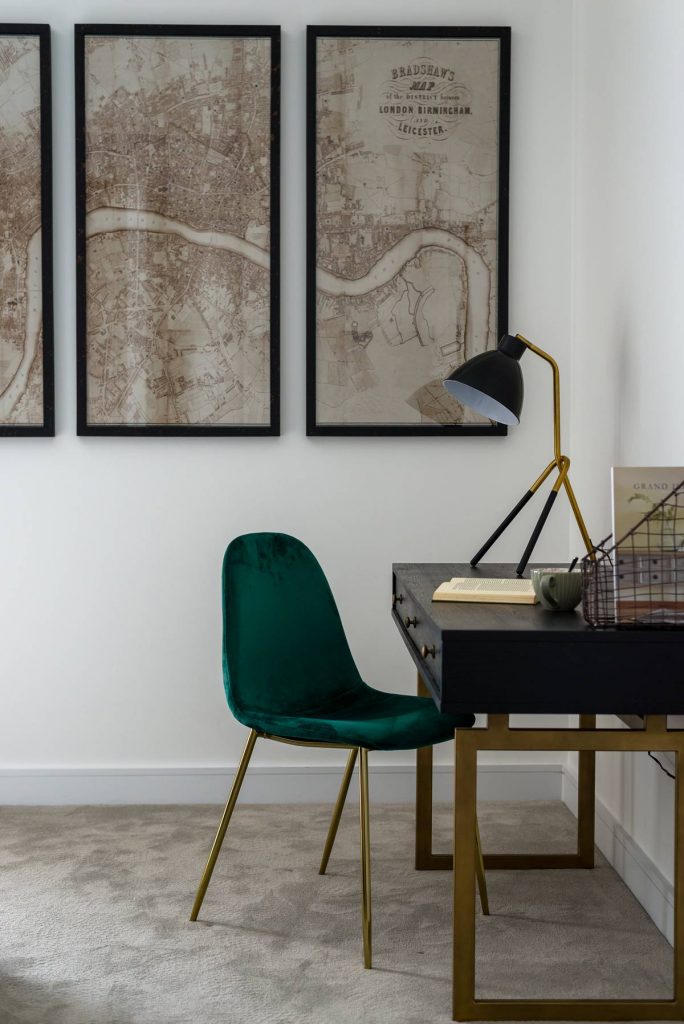 Storage is vital for any family!  And it was essential in this two-storey, family home. Upstairs, the property has loft-style storage which emulates the look and feels of a quintessentially English country home – unusual but incredibly useful for this new-build apartment in North London!  I filled these spaces with plenty of shelving, hanging rails and storage baskets, ideal for the whole family to store clothes, accessories and other bits and pieces.
Finding design inspiration ….
A building's location, its architecture and the size and flow of the rooms, are all very important to me when I design a new interior. A new-build apartment may seem like a blank canvas, but even with simple, modern lines, the building is very much a part of its surroundings, its neighbourhood and the history of the local area. So that is often the seed of the original design concept when I create a new living space. This was very much the case with this project where London's beautiful green spaces, the ebb and flow of the seasons and, of course, London's fascinating history blended to provide inspiration for this new-build apartment.
Are you planning a contemporary new look for your home?
If you have just bought a new property and are unsure how to go about designing a new interior from scratch, call our design team on +44 (0) 20 8964 1966 or email  info@instyledirect.co.uk to discuss how we can help.