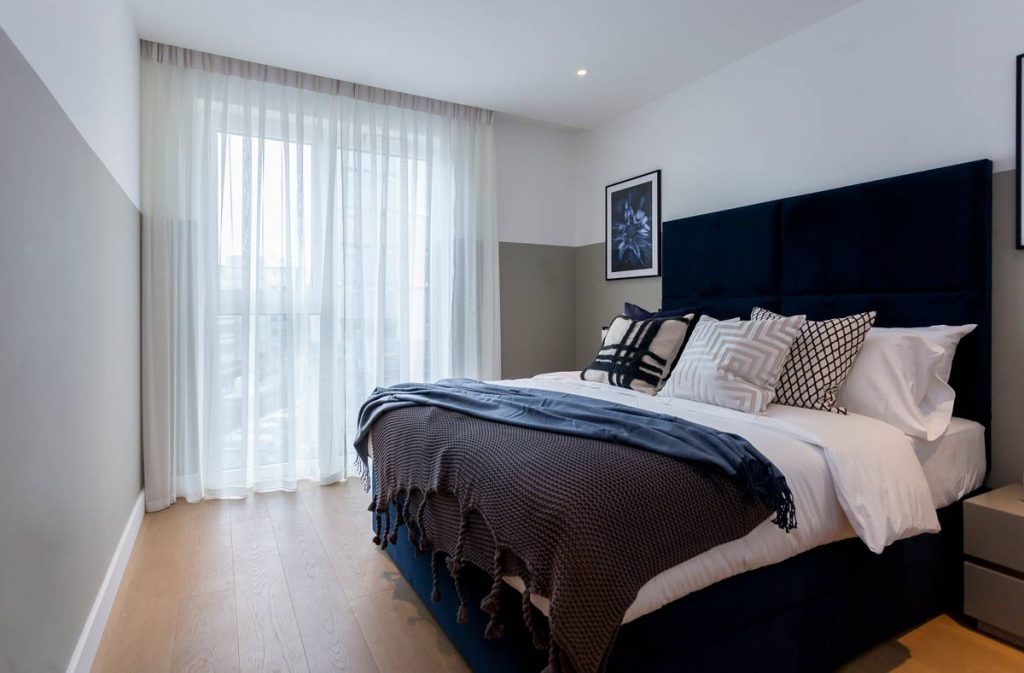 Furnishing a small space – how to decorate a compact apartment
Many apartments in residential developments have open plan but often quite small living spaces.  Renting in London is expensive so tenants don't usually wish to pay more than necessary for a larger home than they need so the most popular rental properties in London are Manhattan, one or two bed apartments.
Stylish but compact, these flats are more affordable but they can present a challenge to landlords who need to decorate and furnish them to enhance the space.  So just how do you furnish a small apartment to enhance its appeal to tenants, making it stylish, attractive and functional?
Planning
A smaller apartment doesn't have to be cramped, dark and crowded.  But the key to designing and furnishing a small home is planning.
First, ask yourself a few key questions.  Who will be using the space – adults and/or children and how many?  Will they need storage for children's toys?  How much seating will they need?  Would they find it useful to have a home office?  From this, work out exactly which furnishings you will need, no more, to avoid overcrowding. 
Create zones
Creating zones within the main living space is key to making an interior feel practical yet homely and uncluttered.  A good way to do this is to position furnishings in clearly defined zones– living area, dining area, home office etc.  This makes the space feel intimate yet organised. 
You could use a shelving unit as a divider – this helps to retain a feeling of space because it doesn't block out the light.  You could also position sofas and chairs to create a cosy but sociable area that feels separate from the rest of the room.
Use different types of flooring to create separate areas within the flat but if this isn't possible (perhaps in a new build apartment) use contrasting rugs instead.
Vary the lighting – perhaps use a floor lamp to create a soft focus across the seating area while for the home office, a bright but practical spotlight will define the area. 
Keep the overall theme unified
Create a feeling of unity and space by sticking either to a single paint colour or certainly a limited colour palette throughout – ideally soft shades which complement each other seamlessly.  You can use accent colours for soft furnishings and accessories to create pops of interest within each zone.
Lighting
Choose lighting that reflects upwards towards the ceiling to maximise the feeling of height and space.  This could be a mix of pendant lighting (perhaps a statement chandelier), table lamps, sconces and wall lights (which have the added advantage that they don't take up any floor space).
Multi-functional furniture
Furnishings in a small space really have to earn their keep.   So for example, instead of a traditional coffee table you could use an antique chest or a beautiful footstool which double as useful but invisible storage while a bed should have drawers beneath for storage.  And don't forget to measure each piece of furniture to make sure it fits the space, without dominating it. 
Modular furnishings
Modular furnishings give you real flexibility – allowing you (or your tenant) to move pieces around to suit your needs.  You can also choose how many pieces you have so they are adaptable and allow you to tailor a furnishing scheme to suit the space. 
Built-in storage
Whether you opt for a wall of modern, streamlined, white wall units or classic, built in shelves fitted either side of a traditional, feature fireplace, or fitted shelving beneath a staircase, bespoke joinery is invaluable to make the most of every inch of space. 
Studio apartments
Making a studio apartment feel comfortable yet stylish brings interior design to a whole new level.  For example, many people would use a conventional sofa bed in a studio but why not go a step further by having a fold-up wall bed installed, together with integrated storage?
Some design tips for decorating smaller spaces
Remember that, if you wish to create a visual impact, a single statement piece, even if it is quite large, can be really eye catching, much more so than several, smaller ones which can look cluttered.
Space saving furnishing options could include a folding dining table, whose leaves can drop down when not in use while bench seating can be tucked away too.  You could also save space by fitting a folding desk which folds neatly up against the wall.
Where possible, keep the floor clear – so choose a sofa, chair or coffee table with feet rather than one which sits directly on the ground to create the illusion of extra floor space.
If you want to make the most of the natural light, mirrors are essential, reflecting the light around the room.  Go for a single, oversized mirror or perhaps create a gallery wall with a selection for mirrors in different but complementary designs for a really contemporary look.
Looking for design ideas?
So, while furnishing a small living space may initially seem like a problem, sometimes the opposite is true.  Having limitations in terms of space can encourage you to think and plan more creatively, helping you make the most of every inch and enhance the property's appeal to tenants. 
And while smaller properties do tend to let quickly as they offer good value to renters in London, a one bed apartment that is furnished beautifully and also offers practical lifestyle solutions, will usually let more quickly than a plain white box which a potential tenant may look at in dismay, wondering where on earth they are going to put all their stuff!
If you are planning to furnish your rental property (large or small!) soon go to link – our Gold and Diamond ranges furnishing packs have schemes designed for studios, one and two bed apartments.  Or to discuss our furnishing options, please contact us on +442089641966  or email info@instyledirect.co.uk .