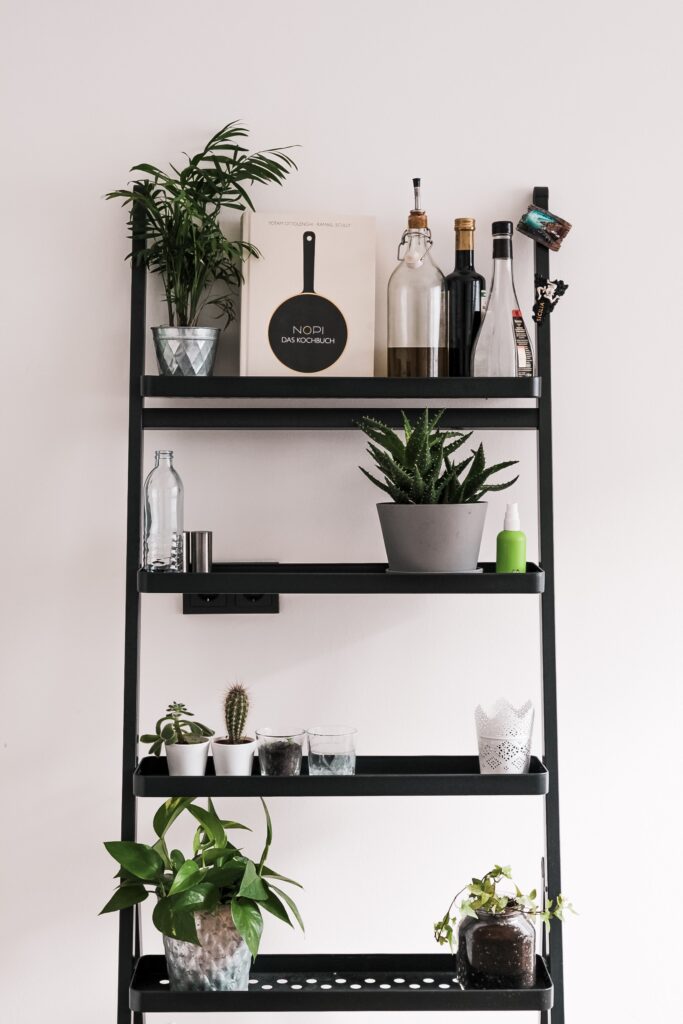 Many of us have been spending the last few weeks tidying our homes and getting rid of unwanted clutter. From streamlining our wardrobes to clearing out our kitchen cupboards, we've left no stone unturned. But if you still think your home could feel more spacious, the smartest thing you can do is to look for some stylish and flexible new storage options to keep your clutter under control!  
Find some inspiration with our Ten Top Tips for smart storage.
Built-in storage
Bespoke joinery sounds like an expensive option but it actually allows you to truly optimise the space you have, without wasting an inch. Ideally, choose a local carpenter who has been recommended to you, who will tailor your new storage units to fit your space and your budget. You may find that the cost isn't as high as you had feared and you'll certainly find that the investment is worth every penny.
Whether you opt for a wall of modern, streamlined, floor to ceiling wall units, classic, built-in shelves fitted either side of a traditional, feature fireplace, or fitted shelving beneath a staircase, bespoke joinery will help you make the most of every inch of space. 
Amazing alcoves
If you live in a period property you'll probably have alcoves either side of a central fireplace in both the main living room and the bedrooms. To maximise the storage space these provide, consider commissioning floor to ceiling shelving or cupboards/wardrobes either side of the fireplace.  Because they're already an integral part of Victorian and Edwardian design, they'll not only look good but it will seem as though they've always been there.
If your bedroom is in the loft space of a period property, build shelving or cupboards into the eaves. Shelving positioned in unused space surrounding doorways is also a good use of space.
Again, find a good, local carpenter/joiner to carry out the project for you.  And by commissioning the units from scratch, you can decide whether you want hanging rails, shelving or a mix of both to suit your needs.
On the shelf
With the phenomenal growth of Zoom interviews on TV, our bookshelves have never been more prominent! But which design of shelving is going to suit your home best? 
As we've mentioned, a good option is to build floor to ceiling shelving in your living room or office to provide a home for all your books, records, plants, photos and knick knacks.  
But many retailers have a good choice of 'off the shelf' shelving too! A large shelving unit, not too deep, could be the answer as it can provide a home for not just books but also the TV. You could also use some of the shelving as a mini home office. Style it beautifully and it will become a real focal point of your living space.
Multi-functional storage
If you're looking for ways to divide up an open plan living space, use handy storage units which will do both jobs. You could divide a kitchen from the living area using a freestanding kitchen island or you could place a freestanding shelving unit between the main living space and the dining area, dividing the two zones and creating storage without blocking out any natural light.
Furnishings that are beautiful and practical
Many furnishings offer built-in storage too. Rather than a traditional coffee table, choose a footstool upholstered in a stunning fabric to create a beautiful focal point in your living space as well as providing practical storage space when you lift the lid.
Or if you're after a quirkier look, think about an old leather trunk or wooden chest instead. 
Many styles of bed have built-in storage – either lift-up beds or divans with pull-out drawers underneath.  You can even find headboards with built-in storage for keeping all those books you haven't read yet.
Working from home?
With so many of us working from home now, a dedicated office area is a 'must'. But if you don't have a separate space for a whole office, fit a neat, desk which you can fold up against a wall. Add a few shelves above and you have an almost instant home office. If you're not sure how tidy you will keep it, think about fitting some simple doors to hide away your clutter.
Modular furnishings
Create real flexibility with modular furnishings. You can move each piece easily to where you need it and tuck it away in a corner when it's not needed. Think wheeled trollies or a shelving system that can be moved if you fancy a change so you can tailor the space to meet your changing needs.   
Hide that hallway clutter
We usually try and cram a lot of stuff into hallways but piles of coats, shoes and boots aren't very welcoming when guests first come into your home.   Narrow designs are usually key in a compact hallway. Of course, a neat row of hooks should give enough room for coats and jackets but you'll also need some sort of bench with built-in storage to tidy away all those other bits and pieces – gloves, scarves, bags etc. It also doubles up as a handy seat for putting on shoes. 
If there isn't enough space, find a smaller, purpose-built shoe storage unit or buy a few attractive storage baskets that will look good as well as being practical. 
Beautiful bathrooms
Bathrooms are often cramped so as well as a conventional, wall mounted bathroom cabinet maybe look at the space you have around the washbasin too. You can find all sorts of off-the-shelf cabinets which fit neatly around the pedestal and give you loads of storage space without taking up much room. A tall but narrow shelving unit would provide plenty of storage while wall hooks will provide extra space for hanging towels.
Also consider having shelving built around existing pipes to make use of that space too.
Under the stairs
Last but not least, if you have an untidy, disorganised, understairs cupboard, you may be wasting an enormous amount of useful space. Put hooks on the back of the door, shelves (if there is space), and storage units to keep everything super organised and easy to find. 
So whatever the size of your home, you can find all sorts of storage solutions to allow you to clear away the clutter and make your home streamlined and elegant.  Just don't forget to keep tidying to make sure it stays that way!
If you're planning to refresh your home interior, call our design team on +44 (0) 20 8964 1966 or email them at  info@instyledirect.co.uk  to talk about how we can help.