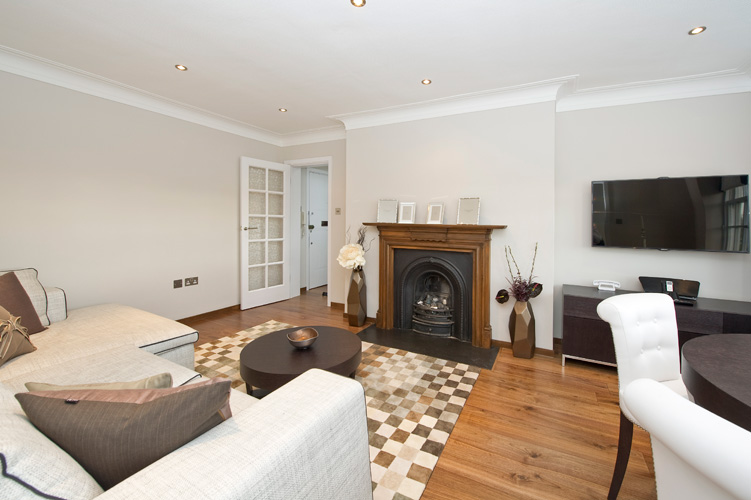 Professional tenants are demanding. They expect showhome standards when they are renting a London property. And that means landlords should take an objective look at their rental properties every few years, and invest in refurbishing and upgrading their property if necessary. It's a decision that can have a significant financial benefit for landlords – helping their property to let more quickly, reducing void periods, and increasing the weekly rent.
This was what a client of ours discovered recently when she asked us to refurbish her rental apartment in a classic Hampstead mansion block. The one bedroom flat was achieving a rental of £375 per week but was starting to look rather tired and dated, having been rented out for several years. So when the previous tenant moved out, our client asked us to refurbish the property, with a view to attracting a corporate tenant at a higher rent. The work we carried out transformed the property and she has now found a tenant who is paying £550 per week, an increase of £175 per week. And of course, the refurbishments we carried out have added capital value to the property too. So what did we do?
Adding value to a rental property
Property refurbishment – the basics
First, we discussed some core objectives with our client. The flat only has one bedroom so we needed to make the most of the living area by providing as much storage as possible and by maximising the feeling of space by using cleverly designed furnishings.
Kitchens and bathrooms are always a priority. For the kitchen, we chose stylish, contemporary cabinets offering plenty of storage. And in the bathroom, we went for smart gloss tiles and a white, stone tiled floor – light, bright and modern.
Creating a stylish reception area
In the main living space, we could be more creative. The reception room is well proportioned and we emphasised the feeling of space using a subtle colour palette of taupe, beige, brown and a soft grey. We chose a fabulous Italian corner sofa in cream which looks sophisticated yet is beautifully comfortable. It also doubles as a sofabed so it is practical too. Then we added a colourful pixel rug by Esprit which really pulls the look together. A circular dining table completes the room and is perfect for entertaining.
The entrance to the apartment is light and airy, a feeling that we enhanced by using some stunning circular mirrors which also double as coat hooks – sometimes a quirky design feature can be as effective as a more elaborate idea.
Designing an elegant bedroom
Many tenants fall in love with the 'boutique hotel' look so this is the style we aimed for in the bedroom which is a real haven of tranquility. We commissioned bespoke furnishings, statement table lamps and a stunning wallpaper in a lovely, metallic finish. Again, storage was a priority so we installed fitted wardrobes to make the most of the available space.
A home that tenants clearly love
The result is a light, airy and very sophisticated apartment that appeals to professional tenants and one that has also been carefully designed so that it meets their practical needs too – never underestimate the value of storage! But even more importantly, our client can be confident that her refurbished rental property will let quickly (it let within days of going back onto the rental market) and that she will minimise any void periods, increasing her rental yield and maximising her income.
For a more in depth look at this Hampstead property refurbishment, read the full case study here