Q: I am considering refurbishing my rental property, how much do I need to spend?
A: A property renovation or refurbishment is the process of upgrading or reconfiguring an outdated building. The rationale for a refurbishment is that it not only increases the value of the investment, but also reduces maintenance costs long term. Plus it attracts higher quality tenants who tend to agree longer tenancies. Superficially, renovation seems like a no-brainer for landlords.
The reality however, is that it doesn't always increase the rental returns. The amount that tenants are prepared to pay will be decided more by the property's location, how the local rental market is faring and the décor of the property rather than by how many en-suite bathrooms it has.
What refurbishment will guarantee however, is a property that is let quickly and enjoy long-term capital growth. As a landlord, you will experience fewer void periods if your property looks at its best than if the property is down at its heels. Tenants' instant decision-making is based on whether they could see themselves living there, so it stands to reason that a property with the wow factor will be snapped up when one that is average will need more careful consideration. This is especially true among young, professional tenants who are looking for a property that suits their lifestyle. At InStyle Direct, 85 per cent of properties that we furnish are let within 48 hours.
So what's to stop you just giving it a lick of paint? Simply redecorating every year to make it look fresh is unlikely to do the trick and get you the results you want. Tenants will be looking for best use of space, clever storage, the right facilities and some stand-out features. As these refurbishment projects show, it's easy to see why refurbishment wins out over a simple refresh.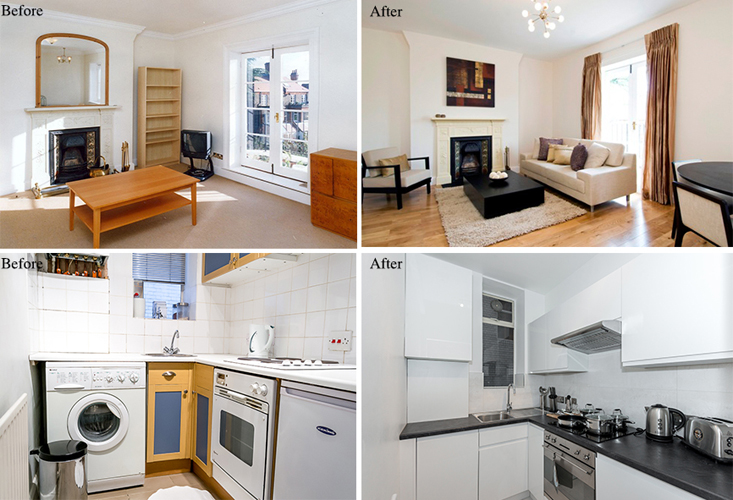 Savvy landlords who combine a refurbishment with labour-saving gadgets will be heroes to their tenants. A dehumidifier and heated towel rail in the bathroom, pull-out bins separated for recycling and a boiling water tap in the kitchen, floor-to-ceiling concealed cupboards with touch latches are inexpensive finishing touches that show the tenant you have thought about how they use the space and how the property will enhance their lifestyle. In properties that have an independent heating system (not shared with the whole building) a remotely controlled home thermostat, such as Hive from British Gas, is a great low-cost addition that will benefit your tenants. By downloading an app, the tenant can control the temperature of the home and even heat water for a bath while they are on their way home. These finishing touches will mean your property will be in high demand regardless of whether the current rental market is buoyant or not.
So then the real question becomes one of cost. Here at InStyle Direct, we're adept at achieving the full rental potential of a property while keeping to a pre-agreed budget. Once you have an idea of the cost for the renovations you have in mind, you can then decide what the net return will be on the investment or you can contact us, if you would like independent advice of what you could expect to achieve. If you are still undecided on the benefits of a refurbishment versus the cost, then take a look at one of our refurbishment projects at a house in St John's Wood Terrace This property was refurbished by us and let for £1,175 per week – that's £450 per week more than it was achieving before it was transformed. So can you afford not to refurbish?