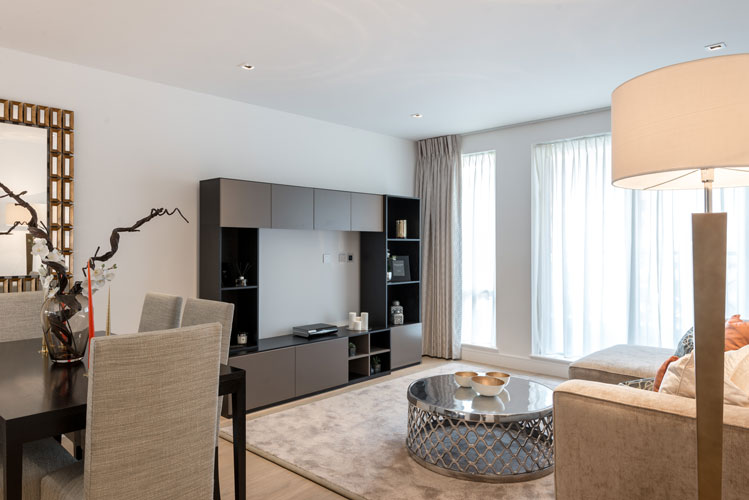 A new apartment, however smart, is not yet a home.To become a real home, the apartment needs to be beautifully furnished, creating an interior that is stylish, practical and designed to meet the needs – and the lifestyle – of the person who lives there.
Transforming a blank canvas into a comfortable home
This was the challenge faced by the owner of an apartment at one of West London's most prestigious new developments –
Kew Bridge. The luxurious property has stunning river views so really is one of the best in the development. But our client, a young professional, needed a little help in turning this blank canvas into a stylish yet comfortable home.
The look we aimed for was one that was both contemporary and luxurious.The two bedroom apartment was already decorated to a high spec – what we needed to do was inject some personality into the interior and enhance the already beautiful space with some gorgeous fabrics and finishes.
Sophisticated colours
For the main living space, we chose a neutral, sophisticated scheme, with a sofa in an exquisite but very hardwearing crushed velvet from Romo's Loriano collection, complemented by scatter cushions in accents of ochre and olive to add a masculine touch. A circular, aluminium coffee table takes centre stage, creating an industrial and very stylish feel.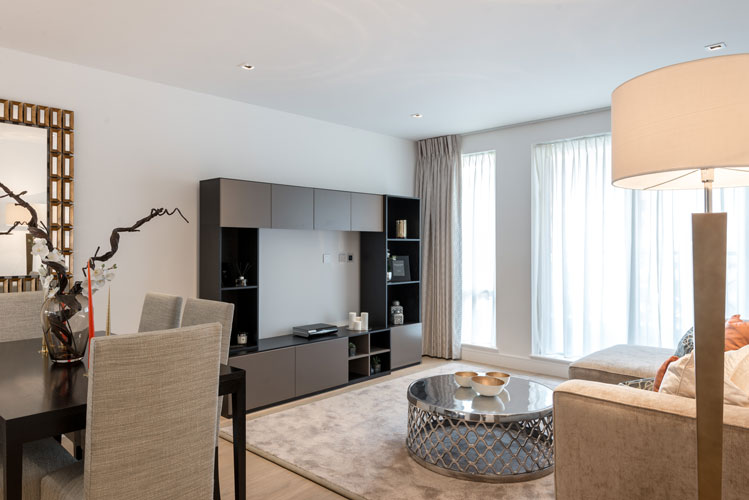 In the hall, we chose a large, statement mirror and small, half moon console table to create an elegant focal point as you enter the apartment.
The open plan kitchen, living and dining space has a solid wood floor and we added a beautiful rug to create a defined living space. It's finished with an Alcantara border and sits perfectly in the living space. Because this living area is larger than average for a typical new build, we were able to add a good sized dining table and six high back, upholstered dining chairs. We used a fabric from Romo's Black Edition, a textural semi-plain with hints of metallic shades that glimmer beneath rich tones to create a radiant finish.
Useful storage
Storage is always an issue in new build apartments, so we chose a modular media unit which is finished with a frame in brown Wenge and lifted with a matt taupe finish on the cabinet fronts – smart yet practical. This houses the TV and provides plenty of storage for all those bits and pieces that you don't want on display.
Relaxing bedrooms
Moving on to the bedroom and here we continued the slightly industrial feel using aluminium bedside tables with grand, classically styled bedside lamps. We used a large, deep-buttoned headboard, wider than the bed itself, to add a feeling of opulence and grandeur. The headboard and base are upholstered in a loosely woven, textured plain fabric from Kirkby Design's Zen Collection. Woven in a blend of viscose, cotton and linen, the fabric has a lovely, natural looking finish in a muted, silver tone.
To maintain the contemporary feel throughout the apartment we chose very simple window dressings – Villa Nova's plain sheer curtains, together with their Valetta Collection in different tones to complement the furnishings.
"InStyle Direct really understood the look I was after"
Our client, Tom is delighted with the result: "I fell in love with this apartment when I first saw it but the way that InStyle Direct has furnished it has taken it to another level. It's contemporary and smart and really feels like my home now – it's very relaxing and somewhere I can invite friends too. Their designers really understood the sort of look I was after – I left it all to them and they have brought it all together for me. I'm over the moon."
To view other similar projects click here