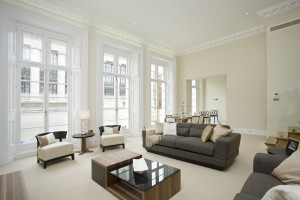 A period property makes a stunning home. High ceilings, huge windows and period features make for very elegant living. But if you've bought a period property that you're planning to refurbish and let, how can you mix the old with the new to ensure your property appeals to tenants and achieves the best asking rental?
Kitchens
Kitchens are a priority. Whatever the age or style of the property, tenants want kitchens that are functional and contemporary. Simple lines work well with more ornate period features so are a natural complement to traditional architectural styles.
Bathrooms
Bathrooms too are key. A two bed property should have two bathrooms if possible – tenants expect it and it also gives you the flexibility to rent to sharing professionals. Older properties tend to have larger rooms so we often create an ensuite from space within an existing bedroom. Most tenants prefer a shower and a separate bath.
White fittings are a must but you can be creative, maybe by designing a feature wall using colourful tiles. We recently designed a feature wall using textured tiles in off white and grey to create a stunning wave design – a stylish alternative to the plain, neutral bathrooms you often find.
Period Features
Retain period features where possible. If the property has original ceiling roses and cornicing, we always refurbish where possible and if not, we'll commission a replacement. When choosing a colour scheme, don't think you always have to go for a neutral colour – we're using paint colours like ash grey at the moment which give a much warmer feel to a room.
Flooring
Most tenants prefer wooden flooring for a contemporary feel – it can actually be a deal breaker for some! Carpets are fine in bedrooms if you prefer.
The Last Word
Keep a contingency budget to cover work you hadn't anticipated – new wiring, plastering or damp-proofing maybe. And don't be tempted to take short cuts – a high quality finish is essential to complement the architecture of a period property and create the sophisticated look that professional tenants demand.
If you don't have the time, or feel you don't have the expertise to manage a larger refurbishment project, why not call one of our design team on +44 (0) 20 7319 9650 to discuss how we could help.