With the first of 2013's interiors shows just weeks away (Interiors UK, NEC, Birmingham, January 20th – 23rd), we've been looking ahead to the trends and collections that will be inspiring us this year.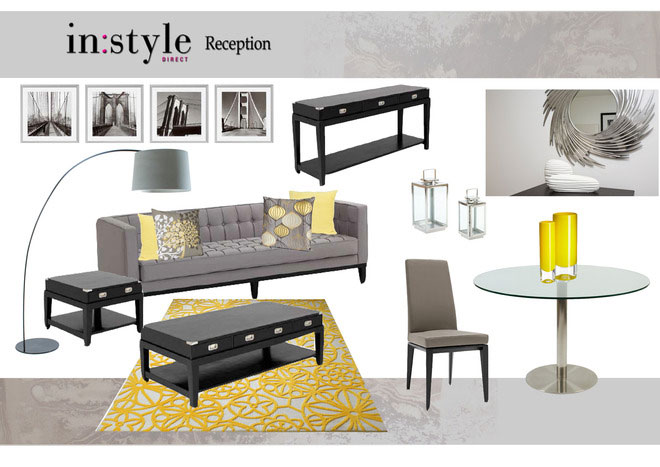 Mix It Up
A key trend for 2013 is the mixing of patterns and textures to stimulate the senses.  Don't feel everything has to co-ordinate completely, try using different prints (stripes, floral, geometric), fabrics, weaves and textures to create your own individual look.
Colours
Bright colours like radiant yellow create a vibrant accent for accessories.  We're carrying out a bespoke project at the prestigious Hyde Park Square development where we've accessorised the reception room in this colour.  Rich, opulent colours will also be popular – think indigo and aubergine.
Natural Finishes
We'll be seeing more natural finishes and textures – these really soften a room and can create a talking point too!  One designer to watch is Cattelan Italia (www.cattelanitalia.com)who have introduced a new collection of coffee tables made from cross sections of sustainably sourced mahogany, each with a completely different shape, colour and dimension – a truly unique look.
Fabrics and Wallpapers
Making a comeback are large, floral prints in bright colours.   We love the Contemporary Restyled collection from Cole and Sons (http://www.cole-and-son.com/Wcollection_detail.asp?collectionid=124) which has some bright new additions which we'll be using.
2013 also sees the launch of Romo's (www.romo.com) Black Edition collection at Maison et Objet Paris (January 18th – 22nd).  From the glimpses we've seen it's an amazing collection, full of exquisite, elegant and contemporary fabrics.
New from InStyle Direct
Large style knits will be even more popular this year.  Look out for our new collection of cushions and throws  – the beautiful coral and charcoal in both cable knit and moss stitch is a personal favourite!
There's a lot to look forward to in 2013 – watch this space as we'll be bringing you all the latest ideas direct from the major shows.