Covid Safe Interior Design Services for Large-scale PRS Scheme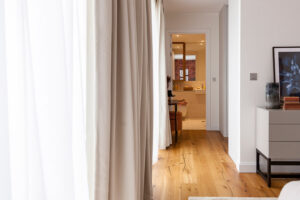 InStyle is almost a third of the way to completing a large scale PRS scheme for Sugar House Island, dubbed the Isle of Opportunity. Sugar House Island fuses the best of original east London with the delights of the City, forging an award-winning, new canal-side neighbourhood, growing a community of 6,000 people. A place to live, create and flourish.
Instyle has furnished 105 properties in the first phase – Botanical Mews, and will go on to complete a total of 340 homes by summer 2021 in the second phase of the scheme.
Practising covid safe working has become an integral part of the way InStyle works for the benefit of its staff and clients. Meetings are conducted by Zoom where possible, saving the client time too.

Dress to Impress – Over 100 Homes Furnished  for the East London Development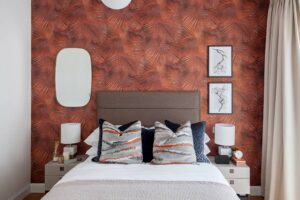 Dressing a property is both an art and a science – the ability to create a stylish home that will appeal to renters (or buyers) and ensure an apartment achieves a quick let or sale and therefore good rental yields for landlords.
As property and interior design and furnishing specialists, we understand how home staging creates the luxury lifestyle aspired to by professionals wishing to rent a property in London.
At Sugar House Island in London E15, our brief was to create contemporary, urban living spaces for the striking new waterside development. An important element of the project was to reflect the fascinating industrial heritage of the local area in the apartments' interiors.

Developing a Unique Vision for Sugar House Island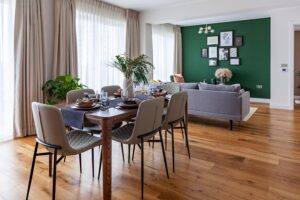 Botanical Mews is the first phase of residential apartments at Sugar House Island, a mixed-use development comprising flats for rent and for sale, workspaces, retail units, open space and a myriad of waterways. It's an exciting new neighbourhood in its right – a hub for home and work, perfect for professionals renting privately looking for a luxurious home with an urban Shoreditch vibe.
Developer Vastint's design vision for Sugar House Island was to create a bespoke look within their specified budget, setting it apart from other new-build residential developments, essential in the competitive London property market.
This was achieved cost-effectively by using high-quality furnishing packages from our range to ensure superior quality and finish, with carefully selected accessories and soft furnishings to complement each scheme and create an individual, contemporary look for each apartment.
The furnished apartments are modern yet full of character and designed to appeal to a broad range of professionals wishing to rent a property in east London and looking for the vibrant city lifestyle.

Creating Highly Contemporary Homes for the New, Urban Landscape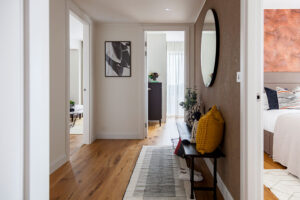 InStyle's Head Designer Max Prychidko's ability to visualise our client's ideas and turn them into reality in a timely manner was key to the project's success.
Max's contemporary interiors combine sophisticated neutrals with vibrant pops of colour and a striking botanical theme, a nod to the history of the site – the original 19th-century warehouse and sugar refinery still stand there.
Stylish Furnishings and Accessories to Attract Good Tenants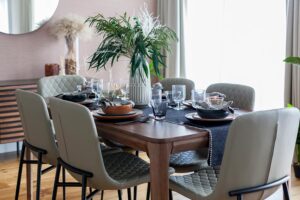 Our range of design-led furniture packages offer a simple, cost-effective way to furnish each property, maximising the use of space and effortlessly creating a stylish home that appeals to buyers and renters.
In the main living space we picked up on the botanical theme by using a limited edition Farrow & Ball paint, with contrasting soft pink textured wallpaper and a carefully curated collection of botanical prints. Sheer curtains provide privacy but allow plenty of light to shine through.
In the hallway, we wanted to create a real impact so used a textured wallpaper with a pop of bright yellow. A bench was chosen as a practical addition and a good alternative to a traditional console table.
In the master bedroom, vibrant wallpaper was used with a botanical leaf print in rust tones and a hint of blue brought in with the soft furnishings.
In the second bedroom, we opted for a more neutral colour palette, with a feature wall painted to a two-thirds height and again, pops of colour in the soft furnishings.
The interiors are sophisticated yet modern, while the botanical theme is echoed throughout, with attractive plants dotted around to help bring the outside in.

Appreciated Rents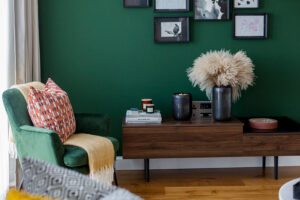 Of course, a beautifully presented show apartment not only helps a property let more quickly, it often helps investors achieve a higher rent.
At Sugar House Island, the rental value of each apartment prior to furnishing was estimated to be £1670 per month. With the furnishing and home staging now complete, rentals are expected to be £2000 per month.
For more information on our interior design and home staging services or our range of furnishing packs, contact our team at info@instyledirect.co.uk.