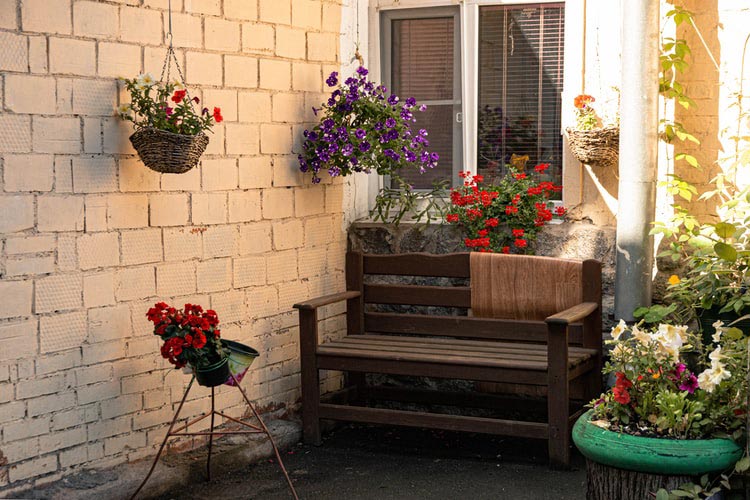 Summer is a little different this year and most of us are spending more time at home than usual. And it's prompted us to think about how we can make the most of our outdoor space and create a beautiful haven where we can sit, relax, eat and if we're lucky, maybe even entertain. It doesn't have to cost a fortune either – just a few simple additions to your patio, terrace or balcony will make a huge difference and help you create a whole new outdoor living space. So we've put together a few, simple ideas for making the most of the gorgeous, summer sunshine.
Outdoor furnishings
First, outdoor furnishings. Think about this new garden space in just the same way as you would if you were decorating a room inside your home.  You'll need comfy seating, a table and some accessories to make it look stylish and welcoming.
If all you have is a few faded plastic outdoor chairs, then now is the time for a rethink. An outdoor sofa is a great investment – a comfy spot where you can relax, read and spend time with family or friends. You'll probably need a coffee table or a couple of side tables too. Sun loungers are another good option but a sofa is probably more versatile.
If your outdoor area is quite compact, remember to measure any new furniture before you buy to make sure it fits in well. 
And if space is limited, a small dining table and chairs might be a better idea and will take up less room. 
Think about the feel you're trying to create. Natural, sustainable living is very much on-trend at the moment so consider wood, bamboo and other natural materials for a laid back feel. 
Soft furnishings and accessories
You can create a really individual look with colourful soft furnishings – think cushions, throws and maybe a rug in bright, jewel colours that will bright up a neutral sofa, chair or sun lounger. Make sure any accessories are designed for outdoor use and are showerproof.
Dressing the table
Dress your dining table or coffee table beautifully and you will add to the sense of occasion. Choose outdoor tableware, plates, bowls and serving platters, in stylish designs. Melamine and acrylic are sturdy and practical. 
Potty about plants
Plants are the essential finishing touch for your new outdoor seating area – and you don't need to be a gardening expert to create a colourful and vibrant display. For most of us, pots are the easiest option but what you plant and the colours you go for are entirely up to you. 
You could fill your pots with classic English lavender or Marguerites for a calm, traditional feel, go for bright blooms such as begonias, pansies or hydrangeas or even grasses and bamboo for a contemporary, zen like feel.
Choose beautiful pots in different styles and sizes that complement each other in their design. Dot them around your patio or balcony but if you are putting pots onto a balcony, find out first how much weight the balcony can take.
You could also fill a planter with hardier shrubs such as boxwood or cordyline for all year round colour.
If you don't feel confident about caring for plants, there's nothing to stop you having faux plants outside as well as inside – just remember to bring them inside if the weather is bad!
Lighting
Last but not least, outdoor lighting is essential if you plan to use your new outdoor living area well into the evening.   
Solar lights are probably the most practical solution and there are all sorts of designs to choose from but we like a mix of practical 'post' style lights together with strings of lights that you can drape around your outdoor space. 
Why not dot around a few individual lights too? Maybe a couple of candles in hurricane lamps or tea lights inside glass jars – the flickering lights will create a soft, magical feel. 
Enjoy your garden!
So, these are just a few ideas for creating a beautiful outside space this summer – you can find everything you need online and get it delivered but don't forget local independent shops and garden centres. You'll often find that they have unusual pieces that aren't stocked by the larger retailers.
 If you're looking for a little professional help furnishing or refreshing your home interiors then please do get in touch with our design team on +44 (0) 20 8964 1966 or email info@instyledirect.co.uk  and we will be happy to help. Enjoy the summer!