Our top Christmas decorating ideas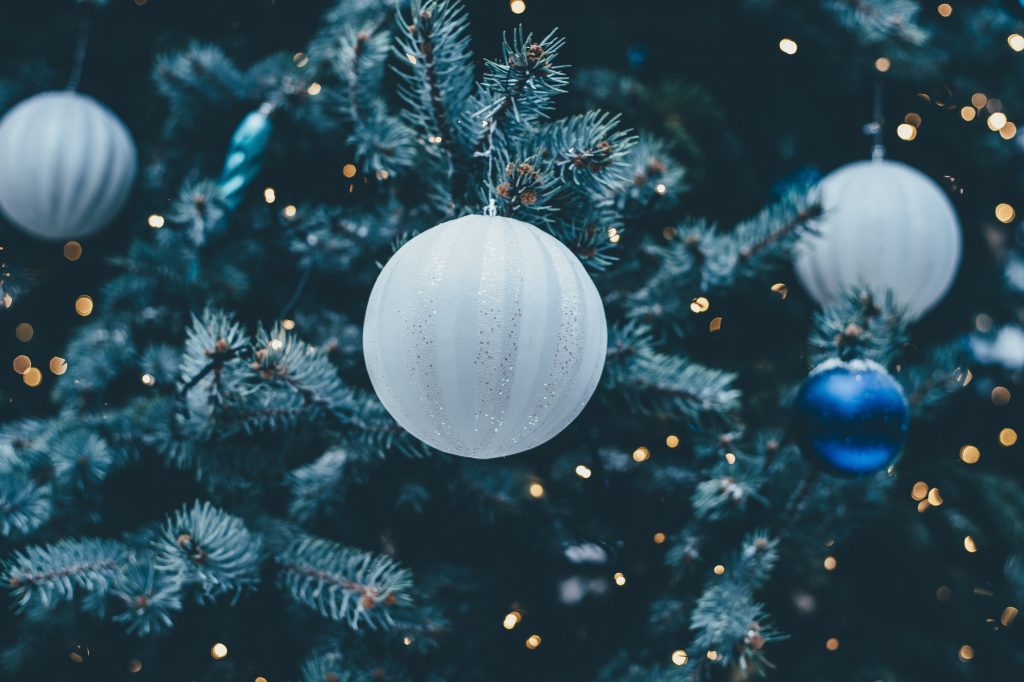 The Festive Season will soon be upon us– and amidst the shopping, the gift wrapping, the Christmas card writing and the food preparation – we have to find time to make our homes look their most beautiful.  No pressure then!
So do we stick with the same Christmas decorations we've had for years?  Or do we add a little interior design know-how into the mix to create a truly warm and welcoming space where we can relax and entertain friends and family? 
If you're pressed for time (aren't we all?), mix old with new and focus on a few key areas which will have maximum impact and transform your home into a winter wonderland.
Deck the halls …….
The living room is the heart of any home, especially at Christmas.  It's where your family and friends will gather around the fireplace to celebrate with you so make it really special and cosy. 
Often, less is more when it comes to Christmas decorations so choose a few statement pieces – perhaps some oversized candles, large glass baublesin bowls dotted around the room or festive garlands to decorate the mantelpiece.  And perhaps have a rethink on your color scheme this year to give your Christmas décor a modern twist.
Here Are Our Five Top Tips For Making Your Home Look Stunning This Festive Season.
Stylish ideas for decorating your home at Christmas
Christmas colours
Red and green – they're classic Christmas colours and they look gorgeous but maybe it's time to ring the changes with a more contemporary vibe.  
Metallics such as silver and gold are glamorous and sophisticated – and they look great together.  You can carry this theme through to the wrapping paper and accessories too – even soft furnishings. 
For a look that's bang on trend this year, choose soft and sophisticated blush pinks.  The shops are full of accessories in this delicate shade – glassware, cushions, throws, paper decorations and candles.
Or, if you're looking for a little more drama, go for an inky blue colour scheme paired with shiny gold accessories for a real sense of theatre.
And don't forget, you don't need to make everything match – it can look a little old-fashioned.  Instead, choose a mix of colours for baubles, garlands and candles – darker berry and pine alongside a splash of metallics and even a pop of pastel.  It will shake things up a bit. 
Create a warm welcome with a Christmas wreath
A festive wreath is a traditional way to welcome guests to your home, and there are all sorts of designs in the shops – from traditional holly and ivy to glass baubles, metallics and even peacock feather designs.
And a key trend we're seeing this year is that wreaths are moving inside too!  For a contemporary twist, decorate your living room window with a large, statement wreath as well or maybe choose a trio of smaller wreaths to hang on the wall of your dining area for a really special, festive feel.
A magnificent mantelpiece
Give your mantelpiece a real sense of grandeur with carefully curated statement pieces – a pair of elegant candlesticks or oversized candles, garlands (much more on trend than traditional tinsel) and maybe some beautiful Christmas stockings.
And don't forget that twinkling lights create Christmas – instantly – so warm and cosy on a winter's night.  And they don't need to be confined to the tree!  Choose strings of sparkling lights to decorate your mantelpiece, your staircase or even your dining table.  Go for a classic white or choose a colour to complement the rest of your décor.
Let the table take centre stage
Create the perfect setting for Christmas lunch – where guests can eat, drink and be merry!  We suggest keeping the look simple with crisp white crockery and maybe add subtle silver accessories for a touch of glamour – some delicate tealights, Christmas crackers and stylish placemats and napkins. A pair of elegant silver candlesticks will make a stylish statement, or pretty glass baubles arranged in a bonbon dish for a bit of sparkle.  And instead of a traditional table cloth choose a simple table runner for a more modern and less cluttered feel.
Add some sprigs of winter foliage – think fresh fir, willow or faux eucalyptus – and you have a truly festive table, ready for guests.
Rocking around the Christmas tree
One of the joys of Christmas is decorating the tree.  It doesn't have to fill the room, in fact a smaller tree can actually create more of an impact than a larger one that can look a little too dominant.  
If you prefer an artificial tree, think about choosing a really modern design – a dramatic black or a bright white – certain to add drama to your living space.
Often, we have dozens of decorations that we have collected over the years, perhaps from when our children were little or even when we ourselves were kids.  But you can keep things fresh with a few new baubles in this year's latest designs – a dusky pink glass, or perhaps a colourful glittery number.  An eclectic mix of styles and colours can create a really beautiful look.  John Lewis, M & S, Oliver Bonas, Amara and Liberty London all have some fabulous designs. 
Above all, have fun with your Christmas décor.  Whether you choose simple but sophisticated whites and metallics or a cornucopia of vibrant, jewelled colours, fill your home with Christmas cheer and enjoy the festive season!
And if this all makes you wonder how you can refresh your interior décor in the New Year, call our interior design team on +44 (0) 20 8964 1966 or email them at info@instyledirect.co.uk  to discuss interior design ideas for 2020!