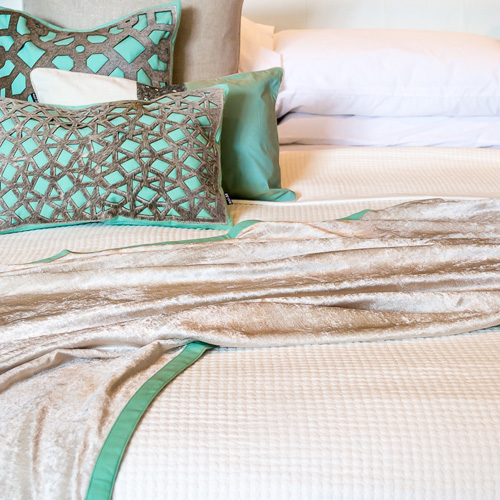 Christmas is a time to entertain friends and family and above all to relax – so we want to give our homes a really warm and welcoming feel. This is a time to go all out for glamour and opulence – rich, deep colours and a hint of sparkle – and of course a crackling log fire if we're lucky.
Sparkle and shimmer
It's all about the detail. Soft furnishings in brightly jewelled colours and accessories to add shimmer and sparkle to your home – maybe a pair of elegant silver candlesticks for your mantelpiece or even a statement mirror in silver.
Warm and cosy
When it comes to colour, deep reds are always a favourite and instantly create a festive feel, but you could mix in accessories in bright whites and silvers for a more contemporary twist. Add some cushions and throws in shiny metallic gold, silver and copper as well as diamante for a really glamorous look. And there are some fabulous, good quality faux fur throws around too if you're after a real feeling of luxury.
For a more Scandinavian look, we also love this season's chunky knitted throws and cushions. They're soft to the touch and very natural looking, creating a warm and cosy feel that's perfect for any room in the house.
Glittering glassware
One of my favourite ways to glam up my home at this time of year is with some shimmering new glassware. Dress your table with some beautiful wine glasses and tumblers, maybe a large glass bowl or an elegant cake stand. Then add some sparkling tea lights for a beautiful, twinkly effect. You could also choose some new china in stylish silver and white to continue the sophisticated theme.
Glassware with a sparkly or irridescent finish is perfect for an instant touch of chic. You can create some lovely, soft lighting effects with stylish candle holders and maybe a hurricane lamp or two. Try mixing these with some metallic candles – we have a range in stunning colours – gold, silver, copper and bronze as well as deep reds and purples. They make great gift ideas too.
The finishing touch
And finally, don't forget fragrance. A mellow, winter fragrance can be the perfect finishing touch, either in a scented candle or a diffuser. Some of my favourite home fragrances at the moment are lavender and ginger and geranium and lily, both from our new range.
These are just a few of our ideas to help make your home festive and chic, so now with your home looking beautiful, you can sit back, relax and enjoy the Festive Season.