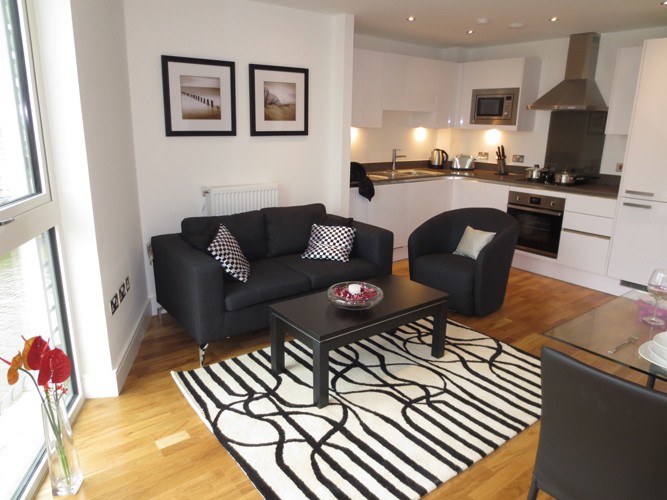 Beautiful interiors are a mix of stunning design and practicality. But there's more to it than that, especially if you're designing an interior for several apartments in the same building. None of us wants to live in an identikit home, however stylish, that is exactly the same as the apartment next door. How embarrassing would it be if your neighbour popped in for a coffee and found you both had identical sofas, curtains, artwork?
We're often asked to design interiors for several apartments at a time when a new residential development launches. And as no homeowner, landlord or tenants wants to feel their property has been designed on a conveyor belt, it's important to be original with colours and styling to ensure each home is a work of art in its own right.
Personalising your space
This was the challenge we faced recently when a client asked us to design interiors for five new apartments he had bought to rent out at New Capital Quay, a beautiful new waterside development in Greenwich. We used furniture from our range of Tailored Essentials furnishing packages, but the key here was to use different colour palettes, from neutral to monochrome, to create an individual interior for each apartment.
Colour choices
For the first apartment, we chose neutral furnishings for the living area, incorporating warm colours in the soft furnishings to create a natural colour palette. In the bedroom, we used black, white and silver to create a sophisticated look, with a tall, upholstered headboard providing a glamorous, finishing touch.
In apartment two, we went for a very different look, using neutral furniture and monochrome colours for both soft furnishings and accessories, for a very contemporary feel. This is echoed in the bedroom, with natural tones such as cream and beige.
In the third apartment, we continued the monochrome theme but used splashes of red and patterned soft furnishings to provide a vivid contrast against the dark furnishings. We chose a brigher look for the bedroom to contrast with the living area.
A tenant had already moved in to the fourth property so this apartment is an eclectic mix of our furnishings and their own pieces.
Finally, we rang the changes again in the fifth apartment with a khaki sofa and hints of green and neutral accessories such as rugs for a really fresh, natural look.
Fresh ideas
Colour is the simplest way to personalise the look of a space, create a mood, an emotion or a connection to a home. Mixing new combinations of colours and patterns brings fresh ideas and original designs, creating a personal space that you or your tenant really can call your own. And they say actions speak louder than words – once the apartments at New Capital Quay had been furnished, they all let within days.