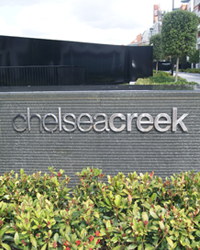 A second home in London, one of the world's most dynamic cities – it's something many of us aspire to.  But if you have a busy career and perhaps are based overseas, the practicalities of furnishing your property may seem a little overwhelming.  You'll need to buy furnishings and all the essentials right down to cutlery, towels and even the loo brush!  You'll probably have to use different suppliers, co-ordinate deliveries and maybe assemble the furniture yourself.  That's not easy if you're only in London for short periods of time – whether you're planning to use the property yourself or intend to let it to a tenant.
Simple Furnishing Solutions
Many people choose to buy an apartment in a new development.  This saves a lot of hassle – the apartment will be attractively decorated when you move in although the neutral colours most developers use could mean it looks a little bland.  But it still leaves the problem of finding stylish furnishings and accessories that will make it your own and create the stunning home-from-home you've always dreamed of.
That was the dilemma facing a client of ours who had just purchased a beautiful apartment at Chelsea Creek, next door to the Imperial Wharf development – where we have a showroom – on the banks of the River Thames near Chelsea.  Our client is based in Malaysia and has a young family, visiting London for a week or two at a time so furnishing the property was going to be a challenge.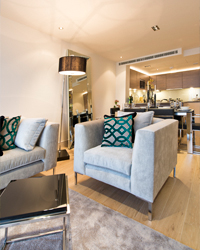 A Vibrant, Contemporary Living Space
Having heard we specialise in providing furnishing packages for rental properties, he simplified the process by asking us to furnish the three bedroom, two bathroom property for him, from the furnishings and accessories to the cutlery, linen and towels – everything was taken care of!
We chose really contemporary furnishings (and plenty of storage!) perfect for a young family.  The pieces we chose were modern yet hard-wearing and practical, using mainly neutral colours but injecting vibrant accents of green, yellow, pink and purple for soft furnishings and accessories.  These fresh and seasonal colours echo the trends of this spring and summer's design collections, using a different accent colour for each room, highlighting the transition into each new space.  The colour we chose for the main living space was emerald green, Pantone's colour of the year for 2013.
Add little touches like geometic framed prints and marble base 'arc' lamps and you have a stylish and contemporary living space that the family can simply come home and relax in, so they have time to enjoy their London life.
This was a bespoke design project but there are others ways of creating the designer look on a budget.  Furniture packs offer a cost-effective solution, containing everything you need to furnish a property but with everything stylishly co-ordinated – a good alternative to an interior design project if you're watching the pennies.